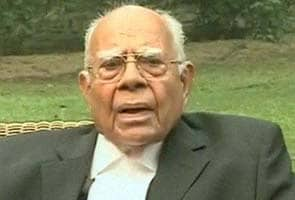 New Delhi:
Nitin Gadkari has won reprieve with his party, the BJP, reiterating support for him last night, but the rumblings of rebellion have not ended.
Ram Jethmalani - the BJP's 89-year-old Rajya Sabha member who frontlined the public revolt against Mr Gadkari's leadership that necessitated the party's avowal of support for its president - today said he was disappointed that the BJP had ignored his advice, but he would continue his fight, "alone if necessary."
The eminent lawyer said allowing Mr Gadkari, who is charged with financial improbity, to continue in office "weakens our ground to fight corruption... we are in the opposition we have to show better standards to the government in power."
Mr Jethmalani was combative again today after having ostensibly been placated on Tuesday by S Gurumurthy of the RSS. Today he said he had not received documents that Mr Gurumurthy had promised to send him with a note explaining why Mr Gadkari should be given the benefit of doubt. "I will be very happy if they expel me. But be assured nobody dares to expel me," Mr Jethmalani said.
Mr Gurumurthy was designated by the RSS to conduct a damage-control exercise that involved outlining to top BJP leaders, Mr Gadkari's defence, which has been accepted already by the RSS. At the end of a two-hour meeting the BJP said it stood by Mr Gadkari and accepted that he is not guilty of "legal or moral wrongdoing" though the Purti Group that he co-founded 12 years ago appears to have been propped up by ghost investors. Those shell companies are being investigated by the government for charges ranging from money-laundering to tax evasion.
The BJP also urged its members not to air views that can hurt the image of the party. Mr Gadkari thus seems set to finish his term, which expires in six weeks. He visited senior leaders Sushma Swaraj and Rajnath Singh this morning; Ms Swaraj has been a staunch ally. She had tweeted yesterday, "The media reports that I am not supporting Shri Nitin Gadkari are absolutely false. I have always supported him and I reiterate my support."
Mr Gadkari did not attend yesterday's meeting; neither did the party's senior-most leader LK Advani, whose absence offered strong comment on a party that came unglued in the last few days as a major and public crisis unfolded. Attempts to persuade him to attend the meeting of the core group that preceded the endorsement failed. Sources say Mr Advani wanted Mr Gadkari removed immediately and was keen to fill the vacancy himself. The BJP said Mr Advani was not present at last evening's meeting because he had been briefed in advance by Mr Gurumurthy.
The party's public support came despite Mr Jethmalani's revolt. His son and senior leader Mahesh Jethmalani had sent Mr Gadkari a letter to resign from the BJP's national executive in protest against the latter continuing as president on Monday. The next day, Ram Jethmalani demanded that the party not sacrifice its credibility by standing by its president while he is being investigated by the government for financial malpractices in the Purti Group of companies that he co-founded in 2002. Mr Jethmalani said he spoke for several other prominent leaders like Jaswant Singh, Yashwant Sinha and Shatrughan Sinha. He also suggested in a letter to Mr Advani that all four were considering "bidding goodbye" to the party over its defence of Mr Gadkari.
The rebellion prompted the RSS to stage its intervention; it had, in 2009, chosen Mr Gadkari to head the BJP despite leaders like Mr Advani having misgivings, and even ensured that the party amended its constitution to give promise him a second term, which now seems unfathomable.
In the surge of that dissent lie the attempts of other A-listers from his party to position themselves as Mr Gadkari's replacement, and to recalibrate power within the BJP by reallocating important posts.
The camps which are backing or fighting Mr Gadkari are motivated by calculations of who will replace him. Chief Minister Narendra Modi is poised to comfortably deliver Gujarat to the BJP in December, a victory that will make it tough for the party to wriggle out of giving him the prize he covets - being its candidate for prime minister. Sources say Mr Modi would like to see Arun Jaitley as party president. Mr Jaitley, who is Leader of the Opposition in the Rajya Sabha, has not defended Mr Gadkari in the current scandal.
Those who are throwing their weight behind Mr Gadkari believe that will check Mr Modi's ascension to the national stage - a promotion that would atrophy their own ambitions for a starring role.
Watching from the sidelines is the Congress, which has been under attack from the BJP on the issue of corruption for months now. Congress president Sonia Gandhi slammed the BJP and its president, without naming them, over the weekend saying, "They lecture us on corruption but are corrupt themselves."
Congress leader Digvijaya Singh said today, "Now it is clear that BJP and RSS are giving full support to Nitin Gadkari.This implies that the person who is comparing Dawood Ibrahim and Swami Vivekananda is right. And also, the person who makes fraud companies and transfers black money to white is right. Advaniji just called Jinnah sahab secular, he had to leave the party presidentship. Therefore Advaniji should think what to do now."
On Twitter he quipped, "Advaniji sangharsh karo(fight back) ; Jaswant Yeshwant Ram Aapke saath hein (are with you)."