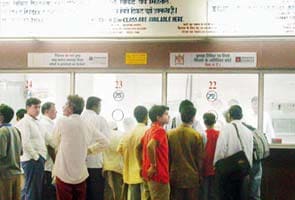 New Delhi:
The popular Tatkal scheme with new timings and additional measures to check the menace of touts came into effect on Tuesday with railways claiming a tangible reduction of pressure at reservation counters and improved performance of its e-ticketing site.
The segregation of the crowd following different timings for opening of normal ticket booking and Tatkal ticket booking helped both railways as well as ticket seekers, railway officials said.
While some zones earmarked dedicated counters for Tatkal booking, some others like Northern Railway sold Tatkal tickets in the same counters but entertaining Tatkal ticket seekers only at 10 am.
No authorised agents, including agents of Indian Railways Catering and Tourism Corporation (IRCTC) and others, were allowed to book Tatkal tickets from 10 am to 12 am from counters as well as from the internet.
IRCTC, however, claimed that their site functioned smoothly during the opening hours as opposed to other days when passengers complained of its site crashing during the first hour.
This happened only because of segregation of ticket seekers and different timing for Tatkal bookings, said a senior IRCTC official.
"More Tatkal tickets were sold from our site today as compared to yesterday. While yesterday we sold total 54,000 tickets out of which 34,000 were Tatkal tickets between 8 am and 10 am, today a total of 73,743 tickets were sold between 10 am and 12 am from our site out of which 36,014 were Tatkal tickets," said the IRCTC official.
The revised Tatkal scheme comes into effect against the backdrop of increased number of complaints from passengers about the misuse of the scheme and involvement of touts in cornering bulk of tickets to sell them at a premium.
Meanwhile, the IRCTC has introduced several changes for booking Tatkal tickets on the internet.
Individual users are permitted to book only two tickets from 10 am to 12 noon. Only two tickets can be booked from one IP address between this time.
Web service agents will now be allowed to book only one tatkal ticket per train per day and that too only after 12 noon.
To serve the increasing web traffic, railways has installed high capacity database servers and increased the Internet bandwidth from 344 MBPS to 450 MBPS. It has also installed Captcha, a technology used to prevent automated software from cornering tatkal tickets by fraudulent means.