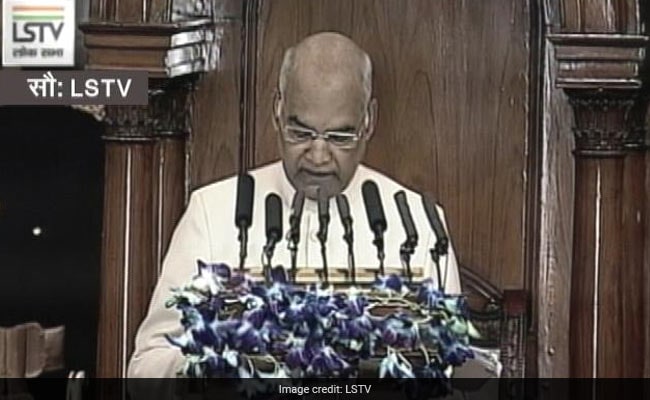 New Delhi:
President Ram Nath Kovind said on Monday there has been a new found respect for India because of the government's "successful diplomatic efforts".
"Due to the successful diplomatic efforts of my government, there has been a new found respect for India," Mr Kovind said in his address to the to the joint sitting of the two houses of parliament at the start of the Budget Session in New Delhi, his first since assuming office last July.
"As a result, India has been able to secure representation in the International Tribunal for the Law of the Sea, International Maritime Organization and Economic and Social Council," he said
In this connection, he also referred to the keenly contested election to the International Court of Justice of Judge Dalveer Bhandari last year.
The President mentioned about India being accepted in three of the four export control regimes - Missile Technology Control Regime, an informal and voluntary partnership of countries to prevent the proliferation of missile and unmanned aerial vehicle technology capable of carrying above 500 kg payload for more than 300 km; the Wassenaar Arrangement, which seeks to contribute to regional and international security and stability by promoting transparency and greater responsibility in transfers of conventional arms and dual-use goods and technologies; and the Australia Group, an informal forum of countries which seeks to ensure that exports do not contribute to the development of chemical or biological weapons.
Stating that service to humanity is an integral part of India's cultural heritage, he said that India has always remained the first responder in times of crises, such as the earthquake in Nepal, flood calamity in Sri Lanka and drinking water crisis in Maldives.
"Today, all Indians residing in any corner of the world are confident that in case of a crisis, their government will provide them with a safe passage to the country," Mr Kovind said. "More than 90,000 Indians stranded abroad have been safely brought back since 2014."
In terms of connectivity, he described "a historic event" the commencement of operations at Chabahar Port in Iran, which has been jointly developed by India, Iran and Afghanistan.
"First shipment of wheat has been sent to Afghanistan through this port. An air corridor between India and Afghanistan has been made operational this year and shipment of freight has started," Mr Kovind said.
Stating that ties with Indian Diaspora are being progressively strengthened, he said that on January 9, on the occasion of Pravasi Bharatiya Divas, the conclave of Indian diaspora spread across the world, a Conference of Parliamentarians of Indian origin was organised for the first time in which elected representatives from 24 countries participated.
The President appreciated the efforts to expand passport services and said: "The Ministry of External Affairs, in collaboration with Department of Posts, has embarked upon a comprehensive programme for expansion of passport services in the country. Under this programme, establishment of 251 Passport Service Kendras has been announced, of which 60 centres have started functioning."
He also referred to the presence of heads of states and governments of all 10 Association of Southeast Asian Nations countries during this year's Republic Day celebrations as guests of honour and said this "added a special dimension to our vision of Vasudhaiv Kutumbakam".