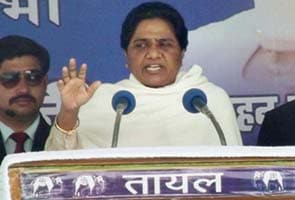 New Delhi:
Mayawati has warned the government of "a tough stand" if it does not push through new legislation that would reserve promotions in government jobs for Scheduled Castes and Tribes (SC/STs).
"We will wait and see and if the government does not pass this bill, we will be forced to take a tough stand. We can go to any extent," she said, though she did not threaten to end the external support her party provides to Dr Manmohan Singh's coalition government.
Mulayam Singh Yadav's party, whose support is also crucial for the government, has on the other hand threatened to disrupt parliament "every day" if the government tries to move ahead on the controversial bill.
"We will disrupt the House and not allow it to function if the bill (for reservation to SC/ST in job promotions) is passed...We will continue to oppose the bill and we are ready for suspension," SP leader Ram Gopal Yadav said told reporters in Delhi. As a trailer, it forced the adjournment of the Rajya Sabha today with its members shouting slogans against the quota bill.
Reservation in government jobs for Dalits and others would cause resentment within Mr Yadav's backward caste and Muslim vote-bank in Uttar Pradesh.
"This is dividing society...how can you benefit one by taking away rights of others?" asked Naresh Agarwal of the Samajwadi Party today.
Last week, Ms Mayawati and Mr Yadav rescued the government during a crucial vote on its new retail reforms in Parliament. That vote was held under duress by the government to end a deadlock that had paralysed parliament. Crucial legislation is pending and the Prime Minister is eager to move forward on his next set of economic reforms, including opening up the insurance and pension sectors to foreign investors - contentious measures for which the support of Mr Yadav and Ms Mayawati will be essential.