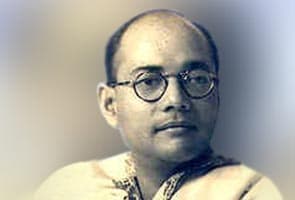 Kolkata:
It's the 115th birth anniversary of Netaji Subhash Chandra Bose today. In view of that, the West Bengal government has declared a holiday.
Chief Minister Mamata Banerjee finished with her celebrations on Saturday at the Secretariat leading to another controversy - she did it alone leaving the Netaji Birthday Committee out.
Traditionally, it used to be held as joint event but this time, Forward Bloc leaders were left out.
In New Delhi, Parliamentarians led by Lok Sabha Speaker Meira Kumar offered floral tributes to Netaji Subhash Chandra Bose.
Besides the Speaker, senior BJP leader L K Advani and Congress leader Girija Vyas were among those present at a brief ceremony in the Central Hall of Parliament.
The dignitaries and Parliament officials offered floral tributes at a portrait of Bose in the Central Hall.
Bose was an outstanding leader of the freedom movement and a revolutionary par excellence who took the struggle for independence beyond the Indian borders.
A booklet containing the profile of the freedom fighter, brought out in Hindi and English by the Lok Sabha secretariat, was presented to the dignitaries.
The portrait of Netaji was unveiled by then President N Sanjiva Reddy in the Central Hall on January 23, 1978.
(With PTI inputs)