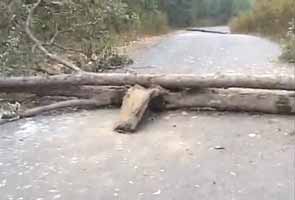 Malkangiri:
Three days after Malkangiri's district Collector R Vineel Krishna and a junior engineer, Pabitra Majhi, were kidnapped by Maoists, efforts are still on to secure their release.
The Maoists have made it harder for the government to reach them by cutting off the main approach road to the district, connecting Jeypore to Malkangiri, thus making the place even more inaccessible.
When NDTV decided to visit the place, they have to take an alternate route that passes through Jagdalpur and Sukma in Chhattisgarh. While Jaypore to Malkangiri is 100 km, the route via Jagdalpur made it a 300-km journey.
After nearly 7 hours, NDTV reporter finally reached Malkangiri. And the inhospitable terrain and domination of Maoists in the area made it clear that there will perhaps be no swift solution to the crisis here.