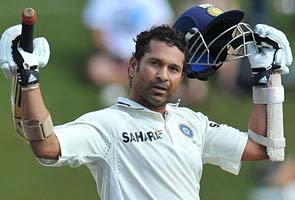 New Delhi:
For decades, he has carried a cricket crazy nation through tumultuous highs and lows... and, through the years, the awards kept coming. But is Sachin Tendulkar the ideal choice to be made a Rajya Sabha MP?
Surprisingly, 75% of the respondents to a poll run on ndtv.com say they do not support Sachin Tendulkar's nomination for the Rajya Sabha.
39-year-old Sachin is the first active sportsperson to be offered one of the 12 seats in the Upper House, reserved for Presidential nominees usually iconic people in arts, sciences and social services.
The batting genius, who has almost all the records in the book to his name, has a quasi-divine status, something that a leading national daily's headline reflected today: God has a New House.
Yet there are questions: How would Sachin fit an MP's duties into his hectic playing schedule? He was out playing cricket and touring with the team 235 days last year- that when he skipped the one-dayers in England and the series in West Indies.
There are others who raise the question - Is the seat really a sweetener? A ploy not to give Sachin the Bharat Ratna - a long standing demand in public consciousness.
"Since he is still in active cricket, Bharat Ratna makes more sense than RS seat," Diraj Parsana, Former Test Cricketer.
Tendulkar is yet to comment to indicate whether he will accept the honour. If he does, he will become the first Rajya Sabha member-elect to play an Indian Premier League match.