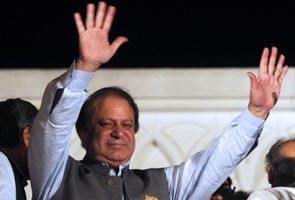 New Delhi/Lahore:
Nawaz Sharif
has said he will invite the Indian Prime Minister to Pakistan for his oath-taking ceremony.
Pakistan is yet to officially declare Nawaz Sharif's Pakistan Muslim League (PML-N) victorious in the country's general elections, but the man set to be the new Prime Minister and India's Manmohan Singh already seem keen to move forward on the dialogue process.
Even as the PML-N looked set to emerge as the single-largest party in the national assembly, Mr Sharif had told NDTV, "We have to restart our journey (from 1999). So whether India invites me or not, I will visit India."
(Watch)
Hours after, Dr Singh reportedly spoke to Mr Sharif, congratulated him on his comprehensive win and extended that invitation. "The people of India welcome your publicly articulated commitment to a relationship between India and Pakistan that is defined by peace, friendship and cooperation. I look forward to working with you and your government", Mr Singh said in a statement released to the press.
(Read: Full text of PM's statement)
In New Delhi, the BJP has asked why the haste.
Balbir Punj of the BJP said today that, "the PM should have waited and seen if Pakistan's attitude towards India improved before inviting him (Mr Sharif) here. It doesn't make sense to call him even before he has been sworn in."
Gujarat Chief Minister Narendra Modi took a sharper dig at the government saying it is too soft on terror. "The soldiers of our nation are beheaded and after a few days the Prime Minister of that nation is treated with chicken biryani," he said.
The 63-year-old Nawaz Sharif had vowed during his campaign and also on the eve of the elections, to revive the India-Pakistan peace process which he began in 1999 with then Indian Prime Minister Atal Bihari Vajpayee of the BJP.
Mr Vajpayee had visited Pakistan in February 1999 and the two leaders had signed the Lahore Declaration on the development and use of nuclear weapons. Mr Sharif calls that a "historic moment" and said, "We have to bring back that time again."
The peace moves were interrupted later that year when Nawaz Sharif was overthrown by General Pervez Musharraf in a coup in October 1999. Months before that Pakistan's incursion into Kashmir provoked the Kargil war, fracturing bilateral ties. Mr Sharif was the PM during the Kargil conflict, but has repeatedly said that General Musharraf, the then Army chief, was solely responsible.