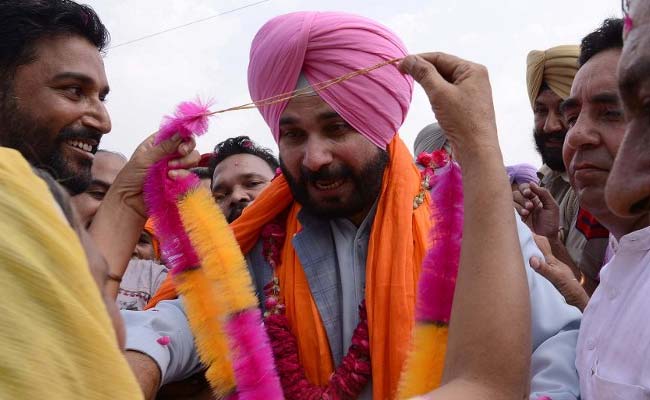 New Delhi:
Navjot Singh Sidhu, whose political career post-BJP has been a game of musical chairs, has held a meeting with a senior Aam Aadmi Party leader in Punjab.
It is seen to mark the return of Arvind Kejriwal's party on the cricketer turned politician's list of possible partners. Not that the Congress has been cancelled out yet, say sources.
There is speculation that AAP has re-opened negotiations with Mr Sidhu after it perceived a dip in popularity ahead of assembly elections to be held in Punjab early next year. After the last round of talks, Mr Sidhu had declared Mr Kejriwal "wants only yes men."
On Wednesday evening, sources said, Mr Sidhu, accompanied by colleagues from his forum Awaaz e Punjab, met Durgesh Pathak of AAP, which has reportedly received feedback that its campaign in the state is sagging. AAP has been beset by internal wrangling in the state unit, which resulted in the sacking of a senior leader Suchcha Singh Chhotepur.
Navjot Sidhu is reportedly also keen to signal to the Congress that he has options, as the party tries to drive a tough bargain in their talks for a merger.
Contrary to earlier plans, the Awaaz e Punjab is now looking to morph into a political party, its leaders have said, to be called the Lok Insaaf Party, which will then will enter into alliance for the Punjab elections either with AAP or the Congress.
After protracted negotiations with Arvind Kejriwal fell through, Mr Sidhu has been in talks with the Congress for weeks and has met top leaders, including party vice-president Rahul Gandhi.
Simarjit Singh Bains of Mr Sidhu's forum has accused Punjab Congress Chief Capt Amarinder Singh of constantly changing his stand on the alliance. But while the Captain is said to be less than enthusiastic, he has repeatedly welcomed Navjot Sidhu into the Congress fold, describing the party as a natural choice for him.
Congress sources told NDTV that they are confident Mr Sidhu will ultimately join hands with them. "It may happen before Diwali despite all the speculation," said a senior leader from Punjab.
Navjot Singh Sidhu formally quit the BJP last month, but had made public his disenchantment with his party of a decade in July when he resigned from the Rajya Sabha. Since then he has been engaged in assessing other options.