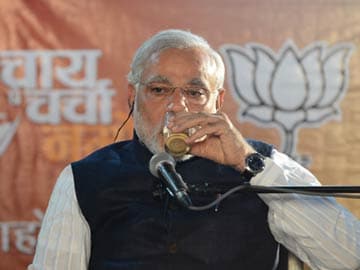 New Delhi:
Move over Arvind Kejriwal's assembly-in-a-stadum.
Narendra Modi
's parliament at the tea stall is here.
The BJP's prime ministerial candidate on Wednesday evening sat at the Iskon Gathiya tea stall in western Ahmedabad, earphones in his ears and engaged with people at tea stalls across the country. Giant TV screens relayed the interaction live at a 1000 tea stalls in 300 cities. (
Highlights
)
Between sips of tea, he discussed good governance and answered questions through what is pegged as "a unique combination of satellite, DTH, Internet and mobile."
"Tea stalls," said Mr Modi, "are like a footpath parliament." If he can scale his idea of the tea-stall interaction the way he wants, he said, he will be able to interact thus with "two crore people."
Taking time off his high-pitched rallies, Mr Modi leisurely slammed the Congress-led government in the two-hour interaction. He also said, "elections are a celebration of democracy," in a reminder of why he is holding the 'chai pe charcha' or discussion over tea. The programme is part of his election campaign for the general elections due by May.
He spoke in English when he answered a question on black money from a person at a Thiruvananthapuram tea stall.
"I assure my countrymen that when we form the government we will bring back every single rupee of black money. This is my personal commitment," Mr Modi said.
The BJP's PM candidate also announced that he will give away 5 to 10 per cent of the black money that is brought back to people who have honestly paid taxes.
'Chai pe charcha' highlights that Mr Modi sold tea on trains as a young boy and is positioned as a giant snub to political rivals like the Congress' Mani Shankar Aiyar, who have made snide remarks about the Gujarat Chief Minister's modest origins.
The BJP plans about 12 to 15 such sessions and other top party leaders will participate too.