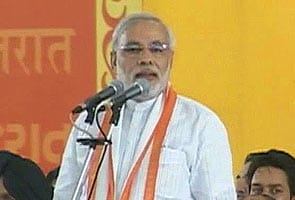 Mumbai:
The absence of Gujarat Chief Minister Narendra Modi and former Karnataka Chief Minister BS Yeddyurappa could cast a shadow over the BJP National Executive beginning in Mumbai today. The meet is all set to pave the way for a second term to party chief Nitin Gadkari.
The party has been insisting that all those invited are coming, but Gujarat Chief Minister Narendra Modi will be skipping at least Day 1 of the two-day meet.
Former Karnataka Chief Minister BS Yeddyurappa, who is unhappy over the failure of the party leadership to reinstate him, has already declared that he also would not be going to Mumbai.
"Gujarat Chief Minister Narendra Modi will take part in a function to celebrate birth anniversary of Maharana Pratap in Udaipur in Rajasthan tomorrow," an official statement from the Narendra Modi's office said on Wednesday. Mr Modi had not also attended the last meeting of the National Executive held in Delhi in December, reportedly miffed by the induction of his bete noire Sanjay Joshi in the Uttar Pradesh election campaign by Mr Gadkari. Mr Modi had not campaigned in the UP polls.
Interestingly, Mr Modi's detractor Keshubhai Patel, whom he replaced as Chief Minister over a decade ago, is planning to make it to the National Executive after staying away from it for three years.
This national executive is significant as it is the first major gathering of the BJP's top leaders ahead of the Assembly elections in Gujarat and Himachal Pradesh, the two party-ruled states, scheduled by the end of this year. The National Executive meet would also provide opportunity to the party to formulate a strategy on the Presidential election, party sources said.
A highlight of the National Executive is its formal endorsement of a resolution to amend the party constitution allowing a second term to the party President. This will pave the way for Mr Gadkari to stay at the helm of the BJP for another three years after he completes his current term in December.
Addressing party workers on arrival at the airport, Mr Gadkari said on Wednesday, "The UPA government has just completed three years of its second term. There is nothing positive about its performance Price rise, corruption and unemployment are its only achievements."
"There is despair among people and the two-day national executive meeting will discuss and deliberate inspiration, strength and vision of bringing about a change in the country," he added.
Mumbai could also see efforts by BJP to enlarge the National Democratic Alliance (NDA) at a time when surveys are projecting a boost to the opposition in the next general election.The party has been in political wilderness at the Centre for eight years.