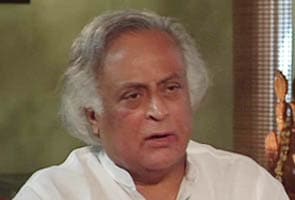 New Delhi:
Union minister Jairam Ramesh, one of Congress's main strategists for the 2014 election campaign, has said that the real battle for the party lies in fighting the ideology of the Rashtriya Swayamsevak Sangh (RSS) which, he said, was controlling the Bharatiya Janata Party.
"It's high time they get out of the
mukhauta
(mask)," he told NDTV. Suggesting that the RSS should emerge from the shadows and what he called "pretence of being a social organization", Mr Ramesh said, "The men of Nagpur should come out and fight elections."
The Union minister also said that events in the recent past - like the appointment of Nitin Gadkari as BJP chief and elevation of Gujarat Chief Minister Narendra Modi as the BJP's prime ministerial candidate - have highlighted the fact that the RSS has been calling the shots in the BJP. "People are clear what the RSS ideology is from the time of the freedom struggle so it is a choice between that and Congress's ideology," he said.
Mr Ramesh also said that Mr Modi's elevation sparked off a round of communal atmosphere. "Muzaffarnagar is only a trailer, we will see many more," said Mr Ramesh, adding that the damage was done in selecting Amit Shah as in-charge of Uttar Pradesh. "Development mantra is only a
mukhauta
(mask) for Modi," he said of the BJP's claim of economic success in Gujarat.
When asked about whether Mr Modi had forced the Congress party to rethink their strategy and whether the Prime Minister Dr Manmohan Singh, Congress president Sonia Gandhi and Vice-President Rahul Gandhi would speak much more, Mr Ramesh said, "The Big 3 of the party will speak out much more when the time is apt," but added, "But there is a problem of over-communicating like Narendra Modi."