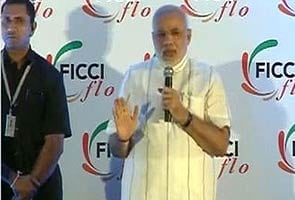 New Delhi:
Narendra Modi
today fashioned his speech at industry body Federation of Indian Chambers of Commerce and Industry (FICCI) around the theme of "Mother India" as a counter to
Rahul Gandhi
's country-as-a-beehive theory.
His host is FICCI's women's chapter and Mr Modi prefaced his speech by saying that many women had connected with him on social media to make suggestions on issues he should address today.
"In our culture and heritage, mothers come above everyone else. 'Ma' evokes reverence - that is our tradition. We call 'Bharat'- our country - Ma... anything we hold in reverence we address as Ma," he said and then swiftly listed the number of things he said his Gujarat government had done to empower women. 300 villages in his state were run by all-women local bodies, he said to much applause.
(Read: Highlights of Narendra Modi's speech at FICCI)
On Saturday, Mr Modi had taken on Mr Gandhi for his comment at FICCI's rival body, CII, comparing India to a "beehive buzzing with the energy and aspirations of a billion people".
(Watch: Rahul Gandhi addresses India Inc.)
Mr Modi said he was "shocked to hear Congress leaders think of India in such a manner. For the Congress, India can be a beehive, but for us our country is our mother." Without naming Mr Gandhi, he also alluded that the young Congress leader was short on knowledge about Indian culture.
Even as he pitched Brand Gujarat, Mr Modi took a swipe at Rahul Gandhi when he said, "In Ahmedabad we have the popular Jassu Ben pizza, which youngsters prefer to Pizza Hut. Now media will go and search for Jassu Ben like they did for Kalawati. I will inform she passed away in Pune few years ago." Mr Gandhi had made Kalawati, a poor farmer's widow famous by talking about her in Parliament.
Both Mr Gandhi and Mr Modi are seen as leading contenders in their respective parties for being the prime ministerial candidate in the 2014 Lok Sabha elections, which is already being touted a personality clash betwen the two leaders.
Their addresses to Industry, less than a week apart, thus are naturally being compared.
If Mr Gandhi, dressed in white
kurta pyjama
was earnest and intense last week, Mr Modi, in cream
bandh-gala
, is relaxed and jocular, throwing in punchy one-liners and drawing much laughter throughout his speech.