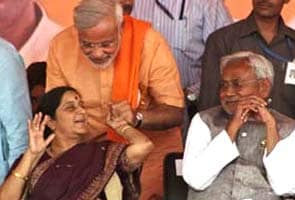 Patna:
Bihar Chief Minister Nitish Kumar and his party are likely to insist this weekend that their ally, the BJP, disclose whether
Narendra Modi
will be its nominee for Prime Minister.
Sharad Yadav, who is the other powerhouse in Mr Kumar's party, the Janata Dal (United) today, reiterated that its alliance with the BJP "is based on secular credentials and secularism", flagging yet again that Mr Modi is unacceptable for the country's top job.
Mr Kumar runs the government in Bihar in partnership with the BJP, and his party is a senior member of the BJP-led coalition, the National Democratic Alliance (NDA).
Their relationship faces a sheer drop as Mr Modi, the chief minister of Gujarat, emerges as the strongest contender within the BJP as its presumptive prime minister.
However, sources in the BJP say they are not in a hurry to announce the PM candidate. It will be decided by parliamentary board at an appropriate time, sources added.
The communal riots of 2002, in which hundreds of Muslims were killed in Gujarat on his watch have led to Mr Modi being treated as political anathema by Mr Kumar, who cannot afford to alienate the 15 per cent Muslim voters in Bihar.
Mr Modi's re-election for a third time in Gujarat in December has forced even his detractors within the BJP to acknowledge his stature as a vote-getter. Recently, in what was seen as a full disclosure of his prime ministerial ambition, he said he has repaid his debt to Gujarat, and now wants to be of service to "the motherland."
(NaMo quip on Modi-fication of Bihar doesn't amuse Patna)
Mr Kumar and Sharad Yadav have both denied that the JD(U) may swap the BJP for the Congress as their preferred partner. But in recent weeks, both the BJP and the JD(U) have said that if needed, they will contest the Lok Sabha elections alone, suggesting that their alliance is unlikely to continue.