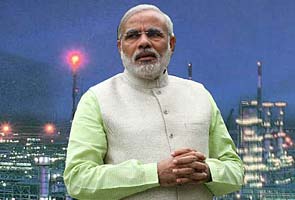 This interview is from Society magazine; its views do not necessarily reflect those of NDTV.

Meeting Narendra Modi was like meeting multiple personalities at one time. I have always perceived Modi as a man of steel having gone through fire. The constant picking and media barbs have not left him embittered. This could be attributed to his strong and courageous personality and being centred in spirituality.
Modi is the only CEO Chief Minister so-to-say who has corporatised political administration in his well groomed and well kept state! As I proceeded to Modi's residence for a chat,
en route, the typical attributes associated with a politician were all missing. No hangers-on, no party flags or king size cut outs, no party men shouting slogans while lounging around and awaiting a darshan of their party honcho, and no desperate security frisking. One enters a 'peace zone' of sorts when you step into his home surrounded by well manicured lawns.
As I was ushered into his neatly laid out home cum office, I saw Vivekananda's bronze figurine tucked in the corner of his work station. The freewheeling tete-a-tete that followed gave an astonishing insight into the man, the mystic and the leader, rather than the controversial politician that Modi is made out to be. My initial apprehension, going by his public image of a darting and intimidating person, was put to rest at the very outset. Modi seemed cheerful, gentle and benign. There was no attempt to overpower and manipulate my thoughts, no overtones or undercurrents. Modi exuded brilliant command over the session, was clearly defined in his approach and was never caught off guard.
"I make political statements only before elections. There is much more to talk about than my political opponents," he quips. We agree. Here is a man who has become synonymous with dedicated hard work and administrative genius so much so that he is the only politician for whom a temple is built by his people. His state shines luminously as a model city. No doubt there are still issues to be addressed in the vast canvas, but Gujarat most certainly has filed past other states in showing an all round progress-industrialisation, infrastructure, tourism and a total turnaround.
The architect of this new and shining Gujarat, Narendra Modi, is surely someone you will either adore or despise but certainly won't ignore. His political strategies that raised him from being a party worker to the Chief Minister for three terms in succession field him as a strong potential Prime Ministerial candidate from amongst the rest of the regional leadership. The writing on the wall is clear that if the nation chooses to vote out the Congress, Modi is the first choice of the people.
With the grim scenario that the nation faces today, the need of the hour is an able administrator who can fix the fractures within our system. Today, regional leaders like Narendra Modi, Ashok Gahlot, Sheila Dikshit and Nitish Kumar are in the public discernment as the ideal options for replacing their national counterparts at the helm.
With a proven track record of excellent governance in his kitty, Modi chooses to play the cards about his national political agenda only when the time is ripe. Among the disadvantages Modi faces is his love-hate equation with the media. And so, here was an opportunity to peel the stern communalistic facade, and peep into the man behind the iron curtain. Is he as blunt and intimidating as he seems from a distance? As ruthless as he is made out to be? As communal minded as he is perceived? What is his typical day like? Does Modi like to watch TV soaps and sob with them? When did he last take a holiday and where does he really like to unwind? Many such questions flooded my thoughts and my research furnished no insight into the man that Modi is. His political track record reveals him as an uncompromising and shrewd politician. Besides, the magnificent transformation he achieved in the eyes of his own people, from being an anti-hero to a hero, is a case study in itself. To the people of Gujarat, Modibhai, as he is fondly addressed as, is like no one else. They view him as a brilliant politician, an efficient administrator, an able strategist and ultimately, a competent leader who has staked all his might in serving his people. Indeed, all this and more is supported by the progress that Gujarat has recorded as a model state in the country with maximum NRI investment and all around growth. The accent is on 'systematic, non-corrupt and good governance' rather than mere tactics for political survival.
Modi is a proud man who can flaunt his report card and by quizzing him to talk about his state, you have turned him on, so to say! "In Gujarat's model of governance, we have moved out of the traditional piecemeal actions and knee-jerk reactions. We now look at a whole new approach to the fundamental changes that would yield qualitative and quantitative leaps. My role is that of a facilitator and the real credit goes to Team Gujarat and the people of the state," preens Modi. However, history can't be recalled without associations of landmark events to fundamental authors. Like Gandhi and the freedom fight, Nehru and the Kashmir goof-up, Sardar Patel's police action in the Razaka movement of the Nizam State, Indira Gandhi and the Emergency, and when it comes to Modi, you cannot finish the breath without remembering the infamous Gujarat riots.
Though the riots will continue to haunt Modi, he has made a conscious effort to heal the wounds and has worked in a sustained way to make the media take note of the immense progress made in the land of the Mahatma. His image as the 'merchant of death' is reversed to that of the 'Sultan of good governance'. As shrewd and emphatic as Chanakya in his political arbitration and in the stringency of administrative competence, Modi is aligned in the league of the legendary Gujarat leader, Saradar Vallabh Bhai Patel.
However, Modi's modesty is outraged at the comparison with the legend and he springs up in protest. "It is unfair to compare anyone with Sardar Patel. He was a great stalwart. We are lucky that his soul is there to inspire us. He was an iron man because he stood by his commitment to his ideology and thoughts. Even in the face of opposition to his stand, he never succumbed. No toothless ruler can rule the country," he interrupts your thoughts.
Going to office is a rather academic activity for Narendra Modi. He has drawn a definite blue print for his people and his personal political agenda. His hours spent in the office are channeled towards proactive administration rather than for political sustenance, Probably, Modi feels best when he talks about his innovative governance, and his schemes are no mere eyewash. Looking closely, his schemes are universal in nature, not to be constricted by boundaries either. An offspring of a middle class family in Vadnagar in Mehsana district of north Gujarat where Modi completed his schooling, he was conferred his PG in Political Science from the Gujarat University. As a young man, he joined the Akhil Bharatiya Vidyarthi Parishad (ABVP), a student wing and was involved in the anti-corruption Nav Nirman Movement. After working as a full time organiser there, he was later nominated as its representative in the Bharatiya Janata Party (BJP).
The upward climb had no stopping. But, amidst all the sound and fury, wouldn't we like to know how his growing up years impacted Modi as a person? "I am just an
aam admi
, a common man. I live and think like a common man despite the trappings of power. My family background was very humble. My growing up was also nothing extraordinary. There were no unusual aspects to my life to have made me blossom into someone special. Neither my mother nor my father was the
sarpanch
of any village. It was a bewilderment to even know what it was like to be a Panchayat member. So, whatever is attributed to an ordinary man is applicable to me. I am happy with the small mercies of life. Even if a child tells me, 'Uncle, you have done a good job,' I feel joyous. And, the endeavour is to not do anything wrong so that you could be centred in joy," proffers Modi. Modi likes to believe that he is driven by the will of God when he says, "I had not shown any temperament to be in mainstream politics in my growing years. Even now, administration within the government framework is an absolutely apolitical activity for me. I hardly spare one or two hours in a month for political activities. I am totally dedicated to my job. I don't see this office as a political one. While you are elected to work, there should be no politics at all. If there is politics, it means you are a failure. You are not a Chief Minister for those who have voted for you but for those who have not voted for you."
Usually, the day begins early for Modi. "I have been an early riser since the beginning. My initial life demanded labour and effort for survival, so I am very hard working by nature. I would toil more than my peers. Be it sports, theatre activities or even reading a book, I would feel I should read faster and more books than the others. Lazing around is not in my nature. Even today, I don't avail a Sunday. I remember when I was a child, during the India-China war, 50 kilometres from my village; there was a railway junction from where the army was dispersing aid to the war field. I accompanied some young men who went there to serve tea and snacks and give a pep talk to boost the soldiers' spirits. I didn't know what exactly this whole act was about, but I was there," recalls Modi.
A strong national fervour was bound to be embedded with such an exposure at such a tender age, and it sure did. Modi embarked on a political pathway with the Rashtriya
Swayamsevak Sangh (RSS) and as a
swayamsevak
, he had to go underground during the Emergency declared by the then Prime Minister, Indira Gandhi. He joined the BJP in early 1987. "I helped maintain relations between the RSS and the BJP. In 1988, I was recognised as a master strategist of the party and was entrusted with the post of General Secretary of the Gujarat State BJP unit. Between 1988 and 1995, I successfully carried out two major projects of the BJP initiated by LK Advani-the Ayodhya
Rath Yatra
and the march from Kanyakumari to Kashmir. In 1995, I became the National Secretary of the party with the charge of five major states. In1995, the BJP came to power with a two thirds majority in the Gujarat Assembly. Since then, Gujarat is under the rule of the BJP. In 1995, I was promoted to the post of General Secretary (Organisation) of the BJP. I held the office till October 2001 and then became the 14th Chief Minister of Gujarat," writes Modi in his introduction on Facebook.
"Being in the RSS, I got a chance to work at every level of the organisation, which helped me in building my character. Basically, I am not built only for politics. I am an ardent lover of nature. My interest is mainly culture and character building. Now, political instability has becomes a part of politics. You need diligence and commitment to succeed in politics," says Modi. An avid reader, biographies of great men catch his fancy apart from philosophical books, and he unwinds by reading and writing poetry. "Poetry which had something to say about life and its varied facets used to captivate me. Now, I just flip the pages as that phase of my life is over. But, I have published my poems and the beauteous nature has always been my muse, my inspiration. I am a big environment buff and even in my own state, a lot has been done to protect and nurture the environment," he muses.
Recalling his growing years, Modi says, "From a very young age, I have been writing books and I also wrote columns with pseudo names. During the Emergency, I used to run a newspaper, called Satya Samachar. I was barely 20 plus then and during that time, I would unearth whatever was censored, publish them and distribute copies as an awareness campaign. The government had also issued a warrant in my name. Recently, I wrote a book on the environment, titled, Convenient Action, which was launched by Abdul Kalam. It is about various environment problems and solutions and Gujarat practices all of them."
Modi the Mystic
Modi revealed in a television programme that he lived in the caves of the Himalayas for four years before he made his foray into public life. To retain one's composure on the face of a storm reveals one's inner spiritual strength. "A stress buster is needed for the one who feels stress. For the one who has authored his life with detachment, where is the question of stress? I am a totally detached person. I am here, but I don't feel I am a Chief Minister. I am a CM only when I sign on the dotted line. Even that is because someone has to take the responsibility," he says emphatically.
Not one of the temple going politicians who always look to the almighty for solutions to problems of their own making, Modi says, "I am not religious. I go to the temple on the Gujarat New Year day. I can't claim to be spiritual because it's a very profound epithet. But, I like it when I get to read or hear anything related to the spiritual world. I have been practicing yoga and meditation for many years. Detachment is something I believe in practising for my spiritual self. In fact, with great difficulty, I have torn myself away from pursuing mendicancy in totality to be a part of this world. The call of the Himalayas has been put on the back burner. When the time is right, it is like crossing from one room to the other for me. You will be surprised to know that despite having lived in this house for 10 years now, until of late, I didn't even know how the entire house looked. I only used spaces like my office, bedroom, dining room and the study. Only when recently there was a move to relocate my library did I take a tour of the rest of the building. That is what I mean by detachment. And, what makes me angry? That's the problem. I don't get angry, but have to enact anger in order to get work done." (Laughs)
So, where does spiritually and politics bifurcate? "There is a problem only when they bifurcate. They should not be cut off. Gandhi was immersed in spirituality all his life and it is this spirituality that inspired him to serve the society. This inspiration sustains because it is a power. This is where we are erring," he pontificates.
Moments to Cherish


Modi lives his life purely with an agenda for his people with no personal strings attached. However, were there any moments he stole for personal gratification amidst the dust and din of politics and work? He recollects, "After being the CM for two consecutive terms, I had two desires. One was to unearth my childhood friends with whom I had completely lost touch. One day, I sat up and listed all the names I could remember. I remembered them all but had lost track of their whereabouts. Some 35 names popped up. I wanted to invite them to the
Chief Minister's residence and share my childhood with them and also because I wanted to remind myself about the real Modi lest I lose sight of him. So, I spent time with my friends getting down-to-earth. They too felt that if I remembered and spent time with them after having reached where I have then I must be fine. So, that was my test. The other desire was to get together all the teachers in my lifetime and honour them. One of them was 93-years-old. I invited them here and organised a big function to honour them. It gave me immense happiness that I was able to honour and say thanks to those who have contributed their might in shaping me. So, I fulfilled both my desires and I am happy about it."
Contributory Influences
An ardent bachelor, one hardly hears about Modi's family. "On my birthday, I go home to visit my mother and spend a few minutes with her. That's my only contact with my family. I left home when I was 17. And, I went back after 35 years. I left home in order to serve the society and the country. Then, I was drifting to different destinations and landed as the CM. I eat simple
food-khichdi
,
chapatis
,
kadhi
and stuff like that. I am a 100 per cent vegetarian," he says.
"As a 13-year-old, I used to read Vivekananda. I don't have a political background. I hadn't seen the Chief Minister's chambers before I became one. I had not seen the Assembly before I became an MLA. I didn't know how a government functioned. I didn't know anything. I was fortunate to physically visit more than 400 districts where I stayed overnight. That's why I am conversant with the problems of Hindustan. Probably, amongst all the politicians, I have visited the maximum number of villages. I have visited more than 50 per cent of the state and for 35 years, I was only travelling all over. This has given me a lot of strength. This contributed to my vision for the state and has translated into the progress of the state in all sectors. The other thing is my temperament to write, and to think out of the box is my innate nature," stakes Modi.
Pro Hindutva
Branded as the messiah and ambassador of
Hindutva
, Modi has had much at stake due to the image. However, he vindicates his core philosophy in his inimitable rhetoric. With a stern voice, he says, "The government's work is to function in accordance to the constitution. I am committed to the constitution of India. Being a Chief Minister, I have to follow the word and spirit of what the constitution states. If I say violence is bad, what is wrong in it? If I believe that we must love nature, what is wrong? If I say, serve the poor, what is wrong in it? If I say,
sarva pantha samabhav
-no discrimination of religion-what is wrong in it? And, if this philosophy is called
Hindutva
then why should one feel shy?"
The Bachchan Factor
Even as Modi's
Hindutva
has triggered controversy, there was a hullaballoo over the choice of the Big B as the brand ambassador of Gujarat. Unflustered, Modi simplifies the entire saga, "I was taking up the promotion of tourism in the state. Gujaratis are the best tourists but Gujarat was never a tourist destination. I wanted to change this because all the elements needed for exotic tourism are inherent here. So, someone had to do something. Around the time I picked up this campaign seriously, Amitabh Bachchan came to me as he wanted me to watch his film Paa. I liked the film. Then, we got chatting and he said I could count on him if at all there was anything he could do for me. I have no personal needs, but it occurred to me that if he could do something for Gujarat, I would be happy. He said he had only his voice and his face as his fortune. I immediately asked him if he would promote our tourism. He willingly agreed to do so and what's more, he does not charge us a single rupee and has always given as much time as we required for the shoots without even once shifting or cancelling a schedule. This is sheer service to the state. What more can I ask for when someone gives so much love to my state? I repeatedly express my thanks to him."
Genesis of Controversy
The ghost of the 2002 riots haunts Modi as a convenient silencer and a political weapon. To Modi, it is a dream to find a benign press that would put the past behind and pat him for his good deeds. So, being the blue eyed boy of the media is indeed on Modi's wish list. The media, Modi feels, keeps scratching the wounds of the riots, not allowing them to heal despite the dramatic amendments he has made. "It would be good if I were liked by the media world," he rues.
Personal and Political Philosophy
Political commentators feel that the veteran politician has all the exposure and experience it takes to shoulder the responsibility at the helm of the country with ease, if given a chance. Does he not see himself playing a bigger role in national politics? "For me, any remote villager from Hindustan, even if he is repairing shoes, is doing national work. Even if a small individual averts an impending accident, it is a service to the nation. I don't believe that it's only by holding certain posts that you can serve the nation. Even now, whatever, I am doing is service to the nation. It does not matter from where and how you do it. It is a media created trend that if any Chief Minister does good work, he has to be spoken about being fit to be the next PM. We have seen this happen in the case of Chandrababu Naidu, Karunanidhi, Sharad Pawar, ND Tiwari, and others. It is a very big club but I don't want to become a member of that club. To me, as Raja Ranthidev said, 'Neither do I desire to rule nor do I desire liberation or rebirth. If I do have any desire, it is to wipe the tears of the poor.' That was the philosophy of our country. What better inspiration can we have than this? Whatever work is entrusted to us, the benefit must reach the last person in the periphery," he says crystal clear in his thoughts.
National Politics

While the media is going hammer and tongs about the suitability of Rahul Gandhi to take over the leadership of the nation and Rahul himself making inroads at the grassroot levels to entrench his presence, Modi's take on the situation is of everyone's interest. "Well, I don't want to discuss this. One has to first explore where the grassroot is. As for Rahul Gandhi having the makings of a national leader, analyse the ingredients needed for that first. It is not my job to analyse anyone. Everyone works in his own way. The country is watching the centre's performance. The Prime Minister himself stated that he has problems and that he is constrained. After this, there is no need for any editorial debates about their performance. He has confessed he has his limitations," he sums up.
Keeping Terror At Bay

One of the major achievements of the Modi government is its success at keeping terror at bay even though the state shares a boundary with Pakistan. Even as the Al Qaeda has administered a threat letter to Modi, he refuses to lend terrorism any religious association. He explains, "It is not in good taste to associate terrorism with any religion. Terrorism has no religion and you cannot associate it with humanity. Someone who is human can't be a terrorist. Only the one who ceases to be a human being becomes a terrorist."
Success Mantra

"Success is a relative term. By and large, success is measured in comparison with someone else's. I feel success is something that satisfies your inner conscience and tells you that you have done the right thing. Success should not be measured on a scale. If I can please a person by some gesture then I have found success," Modi believes.
Personal Style

Modi has authored his own style statement that is now world renowned. "Well, when I was travelling extensively, I used to take a small bag and keep all my stuff in it. I used to then wash my own clothes. So, just as a space-saving and soap economising measure, I used to chop away the long sleeves of my
kurtas
. That's how the half sleeve
kurta
became my style statement. You can find the Modi
kurta
even in London and New York and also in our own Khadi Bhandar," says he blushing.
Network

Twitter and Facebook are now public forums and no surprise that Modi is present there. How net savvy is the Gujarat Chief Minister? "The communication revolution has set in and there is nothing wrong in using these mediums. I am an avid user of Twitter, I use Facebook, I send emails, I keenly keep track of how this medium is developing. In this age, information is power and through social networking, you can get and disseminate information fast. I believe in keeping communication with people alive. There are rarely any calls I don't return or mails I don't respond to. I surf the net and read the newspaper early morning over a cup of beverage, listening to my morning ragas," he says.
Leaving FootPrints

All those who have achieved prominent public presence nurture the desire to be immortalised for their deeds. Modi has made service his axiom. How would he like to be remembered in posterity? "I should be able to serve the poor even more. Why should I be remembered? Why should I have such a dream? I am not an idealist. You behold the Ajantha Ellora caves. They are immortal. Does anyone know who created them? So, my philosophy is, we have been given a mission, we need to finish it before we quit. As far as the work is remembered, it's still acceptable, but what is the need to remember the person behind it? I don't even have the stature to give a message to anyone. I am a very small person. I don't have the right. But, I love this country and its people and I give them the assurance that whatever task I am entrusted with, I will never spare any effort to fulfill it. I will work as hard as I can."
Men of steel are rare to find and here is one, self made. It's time we saw Modi in a new light-as a catalyst of change and growth. Though he insists he doesn't harbour great political ambitions, only time will tell if this iron man of Gujarat gets the opportunity to rule the Delhi darbar.