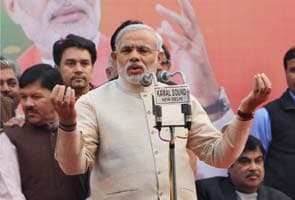 New Delhi:
Narendra Modi is riding a big electoral victory and it showed as he hit Delhi with a smile that wouldn't fade even when he was slamming the Manmohan Singh government on "disappointing growth." At the BJP headquarters, he was greeted with a shower of rose petals and chants of "PM, PM" from the party workers gathered even as party president Nitin Gadkari attempted to complete a short speech congratulating Mr Modi.
Mr Modi is in Delhi to attend a meeting of chief ministers chaired by the Prime Minister; only yesterday he was sworn in for a fourth time as Gujarat's Chief Minister. At the 11, Ashoka Road BJP office today, Mr Modi reminisced how he had spent many years as a back office boy working quietly and unnoticed in a corner before being catapulted into another realm. "It is the strength of this party and the strength of India's democracy, that even the simplest and commonest of men can get big responsibilities," he said, as he extolled Gujarat's successes. Before heading to the BJP office, he visited former Prime Minister and veteran BJP leader Atal Bihari Vajpayee for a few minutes.
More than once in the last few days, Mr Modi's name has been brought up along with that of Mr Vajpayee, the only BJP Prime Minister to date. Mr Modi's supporters see his emphatic victory in the Gujarat assembly elections as a stepping stone to a bigger role on the national stage, perhaps even as the BJP's candidate for Prime Minister in 2014. His detractors say he will never enjoy the universal acceptance that Mr Vajpayee did as the head of a multi-party coalition, the NDA, which includes parties like the Janata Dal (United) which have made it clear that Mr Modi cannot be a consensus candidate.
At the National Development Council meeting, the prime agenda of which was to seek approval to lower the average annual growth rate to 8 per cent for the 12th Plan, Mr Modi's speech was scathing in its criticism of the Centre. "It seems that there is no urgency or seriousness in tackling economic crises facing the country. There has been a virtual lack of direction in the macroeconomic management of the country," the Gujarat Chief Minister said, attacking the government for lowering the growth target for the 12th Plan. "It was not impossible to achieve if we had the political will to do what is necessary," said the man who prides himself on what he calls the development model of a "vibrant Gujarat."
He said he was pained at "the unmistakable sense of pessimism in the 12th Plan document...Significantly lowering the growth targets of the 12th Plan will further add to the mood of despondency and pessimism in the country and cast increasing doubts on the sustainability of the India Growth Story." So saying, Mr Modi unleashed the Gujarat model by listing out the initiatives taken by him in various sectors including agriculture, urban development and decentralised planning.
Outside the meeting Mr Modi said, "Even today, of all the reports of the nation, the stats of Gujarat are the best."
Mr Modi took oath as Gujarat Chief Minister for the fourth time yesterday. Gujarat has had no other chief minister between his first swearing-in ceremony in October 2001 and now. Among people who do electoral battle every five years, fighting overwhelming factors like anti-incumbency, his run of 11 years and three straight wins in Gujarat is what political dreams are made of. Today, he was greeted by several other chief ministers, including Tamil Nadu's J Jayalalithaa, who got star billing at his oath-taking ceremony in Ahmedabad yesterday and then flew to Delhi, Maharashtra Chief Minister Prithviraj Chavan, Punjab Chief Minister Parkash Singh Badal, who too attended his swearing-in ceremony yesterday and Uttar Pradesh Chief Minister Akhilesh Yadav.
Mr Modi walked up to Himachal Pradesh Chief Minister Virbhadra Singh, who too was sworn in this week, and congratulated him.