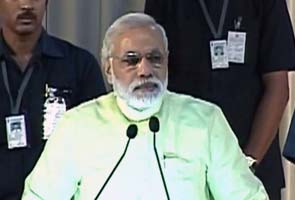 Chennai:
Gujarat Chief Minister and BJP's prime ministerial candidate Narendra Modi delivers the Nani Palkhivala memorial lecture on 'India and the World' at the Madras University. Here are the highlights of his speech:
Great privilege to deliver the 11th Nani Palkhivala memorial lecture.
Nani Palkhivala was a gifted economist
To my mind, his biggest contribution was in upholding the Indian Constitution. Had it not been for people like him, the basic structure of the constitution would have been different.
In a short time of two years, Nani Palkhivala was able to generate immense respect for India in the US. Whatever he did, he did it with distinction. I find his legacy more interesting than his life.
We are lucky to be born in this country. It is said in the scriptures that India is a land where even the Gods want to take birth.
Vasudheva Kutumbakam is our guiding principle for dealing with the world.
The manner and message of India for the world is of peace and harmony.
Gandhiji gave importance to the moral dimension in the conduct of persons and nations.
The policies during the British rule divided us internally as well as internationally.
After independence, the first task should have been to collect all those threads and weave a harmonious neighbourhood.
India can offer a lot and become the alchemist of the world.
Today's world is unstable, instability arises from the lack of understanding the viewpoint of others.
These are our healing powers which we can use for international relations. Our healing power is our cultural strong point.
For many Asian and east Asian countries, Buddha is a common thread with us. We should strengthen this bond.
Many neighbours look upon India as a big brother because of its size and resources. That status casts a lot of responsibility. We have failed to play that role properly.
Arun Shourie's book explains how India is making a mockery of itself with its limited and timid approach vis-a-vis China.
We remained weak where we needed to be strong, insensitive where we needed to be sensitive.
One of the pillars of foreign policy should be strategic and security interests. Atal Behari Vajpayee worshipped both - Shakti and Shanti.
He conducted a nuclear test after that sanctions were imposed upon us. It was Atalji's political will that after the 11th on 13th a second nuclear test was conducted.
During Atalji's regime price rise wasn't an issue.
Today our rupee is in ICU, I don't know why Tamil people sent this person (Finance Minister P Chidambaram) to Delhi.
He conducted nuclear tests but committed not to be the first to use the nuclear power.
Atalji convinced Japan - he could do this because within the country he had the support of the Prime Minister.
Unless you have the support of the people, you can't do anything by becoming the PM. And if you can't find support within the party, we suffer.
Need to revive the legacy of Atal Bihari Vajpayee, to build a strong India that'll have a productive relation with the world.
No country has suffered more from terrorism than India.
It is central to our foreign policy that terrorism is driven from abroad.
In the past 50 years, in all world forums, Pakistan has been able bring Kashmir to the centrestage. Atalji brought the focus to terrorism and those countries supporting terrorism were isolated.
In the recent past our approach against terrorism has been weak. Modern warfare will be proxy wars - this includes cyber attacks.
Higher walls made by human lives will not be enough, made by human minds are also not enough - what we need is walls of hearts against such attacks. And this is where India's strengths lie.
Strong economy is the driver of an effective foreign policy. We have to put our own house in order that the world gets attracted to us.
This will give us the bargaining power at some point of time.
Once the PM was going to the G8, and I wrote to him saying why can't India form its own club? I had mooted the idea of all countries which can garner solar energy - but you know what would have happened.
Very important to know what we can give to the world. We are living in times where relationships are based on give and take. How can we create an India where the world would come to us?
Medical tourism to India must be promoted. Yoga, Ayurveda and holistic health care is our old strength. Tourism is a huge economic activity in the present times - about 3 trillion dollars worldwide.
Terrorism divides, tourism unites. With minimum investment you can give maximum jobs in the tourism sector. With our youth power, we can service the whole world.
If China gets in, we're watching... when Pakistan decapitates our soldiers, we're waiting...
People don't know who is running the country - all this is happening because there is no seriousness.
Our Foreign Minister reads the speech of another country - what a shame! After three-four pages he realised, he is India's foreign minister.
Our Foreign Minister goes to China and says he wants to stay on in Beijing. I wish such people stay on in Beijing, we don't need them.
Mere desh ka videsh mantra - Beijing ki aarti utarega kya. That isn't a policy, that is a mockery - and this has to change.
We have to show the world that India is powerful. India is not only Delhi. India is made up of its people and not politicians in Delhi.
We have 30 states - each state needs to take care of one country in the world. Globally you'll have close relations with at least 30 countries in the world.
Nothing is difficult is you have vision, strategy and will to implement.
Why can't international conferences be held in states? Every one comes to Delhi and goes back.
If you hold a conference in Banaras, at least the city will be cleaned.
We have great people-to-people relations in the world - In Russia they don't understand tea or door - they understand chai and dwar.
If 30 countries in the world bat for us, we need to be afraid of no one.
Indians abroad are our biggest ambassadors, we have to make use of them in this area more actively.
We have to take better care of them more actively - the colour of passports may change but blood ties never do.
We have to take better care of Indian origin people when they are in trouble like the Tamils in Sri Lanka.
The magnetic power of India lies in its culture and traditions . Also we are the biggest democracy in the world.
The present century will be Asia's century. In that sense, we would be able to contribute towards that.
It is our responsibility that the next century will be India's century. Let us together work for a bold India and a better world, a harmonious neighbourhood and a safer world.