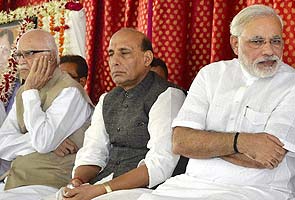 New Delhi:
When Narendra Modi was announced the BJP's candidate for prime minister, the party's senior-most leader, LK Advani, was missing. In a letter, he has said that he is "anguished" by how president Rajnath Singh is running the party. (
Read Advani's letter on skipping Modi announcement
)
Despite a series of visits in the last 48 hours by colleagues including the party chief, Mr Advani did not acquiesce to endorsing Mr Modi at the BJP's parliamentary board meeting this evening - a gathering of its top decision-makers.
Mr Singh went to Mr Advani's house just before that session began to persuade the 85-year-old to attend the meeting.
There was confusion later at the veteran's residence, with sources delivering conflicting information on whether Mr Advani would leave for the BJP headquarters.
In a letter sent to Mr Singh shortly before the parliamentary board met, Mr Advani wrote, "I had told you I would consider whether to attend the meeting... I think it's best if I don't."
Earlier this week, Mr Advani reportedly warned Mr Singh of "political disaster" if Mr Modi is made the frontman of the party for the national election, due by May.
Sources say that Mr Advani felt that before selecting Mr Modi for PM, the party should test the Gujarat chief minister's appeal in the assembly elections in five states that are likely to be held in November. But the BJP's ideological mentor, the Rashtriya Swayamsevak Sangh or RSS, believes that Mr Modi's surging popularity among party workers could extend to voters.
In June, Mr Advani quit his party posts for after the BJP selected Mr Modi as its campaign-in -charge, a post that was seen as a precursor to the prime ministerial nomination. The RSS persuaded Mr Advani to rescind his resignation 24 hours later.