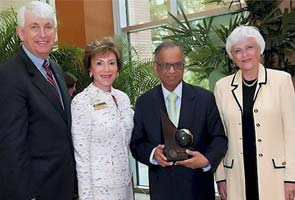 Washington:
Infosys Chief Mentor Narayana Murthy has been felicitated with the Global Leadership and Free Enterprise awards by the University of South Florida (USF) in recognition of his entrepreneurial spirit.
The two awards were presented to Mr Murthy by the USF President Judy Genshaft at a ceremony in Tampa, Florida.
In his interaction with the USF students, Mr Murthy talked about his current duties as Infosys Chairman, which keeps him busy though not involved in the day-to-day operations, and then engaged in a question and answer session.
Mr Murthy recounted the details about the impact of changes in the tech world that "transformed the entire scenario" for corporations and "opened up unlimited and enormous opportunities," most significantly the introduction of super computers and online transaction capabilities.
Maria Valentino, who mentioned how impressed she was with the business culture she found during her visit to Infosys as a student, asked how his company managed to maintain its values.
Mr Murthy responded to her question saying that it was because of his middle class background and that it was not as difficult to do as it might be for the mass of people eking out a living.
"You need a spirit of sacrifice and you need to have trust," he said.
He explained how the company's ethos has its roots in the very first meeting held at his house in Mumbai with his six fellow founders. Their discussion was focused on profitability.
Mr Murthy focused their attention on "seeking respect," "living in harmony with society" and making sure "you don't change your customers". "When you do those things, Revenue will come, Profit will come," he said.
In a response to the question about the chances of him entering politics, he mentioned his preference for "rational discussion" and the difficulty that the political world offers for such a discussion.