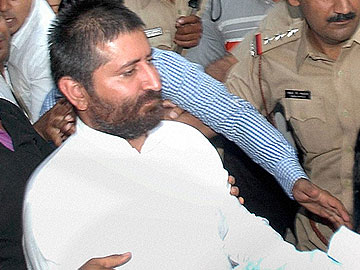 Surat:
Narayan Sai, the 41-year-old son of spiritual leader Asaram Bapu who has been accused of raping a woman who lived at his father's
ashram
or retreat house in Surat, was today booked for allegedly trying to bribe police and other officials with five crore rupees in order to seek their help to weaken the case against him.
The police in Surat have arrested three people, including a Sub Inspector and a close associate of Narayan Sai, in connection with the case. Of the alleged bribe money of five crore rupees, one crore was found from a car that belonged to Narayan Sai's associate.
"Following a tip off, Sub Inspector C M Kubhani was kept under surveillance and on Friday a car belonging to Uday Sanghani was intercepted and one crore cash was recovered from it. Following sustained interrogation, more raids were carried out and another four crores meant to be used as bribe were found from a Surat-based businessman's house," Commissioner of Police Rakesh Asthana told reporters.
The police officer also added that the bribe money was intended to be given to the Sub Inspector who was to further give parts of it to judicial officials, policemen and doctors who could help weaken the case weakened against Narayan Sai.
After two months of dodging arrest, Narayan Sai was arrested earlier this month from near the Delhi-Haryana border while he was disguised as a Sikh. He has been in a prison in Surat since then.
Two sisters have accused his father and him of raping them at separate ashrams in Gujarat between 1997 and 2006.
Asaram Bapu has been in a Rajasthan jail since September after a school girl accused him of sexual assault at an ashram in Jodhpur.