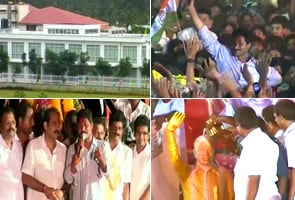 Hyderabad:
As he continues with his controversial tour of Andhra Pradhesh, Jaganmohan Reddy is keeping his friends close - and his enemies are getting closer.
Jaganmohan's party, the Congress, has repeatedly criticized him for defying its orders to stop his "
Odarpu Yatra
" but has equally often stopped short of taking any sort of action against him.
As YSR Junior moves from one district to another, he's often supported publicly by Congress politicians who pledge their allegiance to his father, YSR Reddy, who was Chief Minister when he died in a helicopter crash in September 2009.
Undoubtedly, they also want to be seen as close associates of a man who attracts thousands of people seemingly effortlessly.
The same show of strength may be the provocation for a new unflinching attack by Chandrababu Naidu, who was YSR's long-time political rival. Naidu says the legacy that Jaganmohan has inherited includes broad-based corruption.
As Exhibit A, Naidu refers to Reddy's palatial house, helipad included, built on the outskirts of Bangalore. Naidu estimates the house's worth at 100 crores -money, he says, that YSR made illegally during his term as chief minister.
"How did he get the money because before 2004, they wanted to sell their house here because they didn't have money. He wanted to pay his debts. After 2004, he constructed a big house in Bangalore, one more in Hyderabad and two more in Kadapa. Where did you get all that money from?''
In the 2009 elections, Jagan declared assets worth Rs 77 crore. As a successful industrialist, his supporters say, the source of his expansive wealth is both his wide-ranging businesses which include mining, and the considerable wealth he inherited from his father, who owned acres of land in Pulivendula in the Kadapa district.
"I don't know what irks Chandrababu Naidu. ...every person in the villages I am touring has YSR in their hearts. They don't see the love and affection they have for us. They just want to do politics with the Odarpu yatra," says Jagan.
He leaves it to his close associates to really hit back. They rewind to 1978, when Naidu's assets consisted of 5 acres of land. Today, on record, he is worth Rs 69 crore. Jagan's associates say that Naidu's own ascension to big-league money is questionable. People who live in glasshouse shouldn't throw stones at houses with helipads, they smirk.