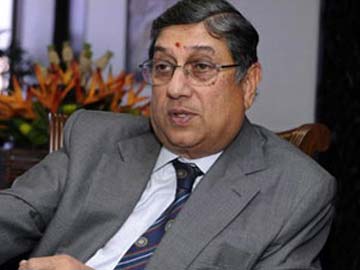 New Delhi:
N Srinivasan, the head of the Board of Control for Cricket in India (BCCI) will step aside to ensure a fair probe into illegal betting during last year's Indian Premier League (IPL), the cricket board has reportedly said to the Supreme Court.
Offering a time-bound inquiry to be conducted by the Chennai police, the board requested the court not to curtail Mr Srinivasan's hefty role in international cricket, according to sources.
Mr Srinivasan, regarded as the world's most powerful cricket administrator, is set to take over as chairman of the International Cricket Council in July.
"We will have to think hard for the benefit of cricket and then pass the order," said the Supreme Court today.
The involvement of Gurunath Meiyappan, who is married to the daughter of the BCCI president, in the illegal betting case was proved by a court-appointed committee last month. The committee had been set up by the Supreme Court. Earlier this week, the court slammed Mr Srinivasan's "nauseating" refusal to resign while allegations of illegal betting and spot-fixing involving his son-in-law are investigated
The BCCI was asked to file a detailed response by today. According to sources, it has offered that during Mr Srinivasan's absence, the board's secretary, Sanjay Patel, will run the organization.
Mr Meiyappan, the BCCI chief's son-in-law was arrested in late May by Mumbai Police probing illegal betting on the lucrative Twenty20 IPL but was released on bail within two weeks.
He is a member of the team management for the Chennai Super Kings, which is owned by India Cements. The BCCI president is the Managing Director of this company.
The IPL scandal surfaced when former Test bowler Shanthakumaran Sreesanth and two other local cricketers were arrested on suspicion of taking money to concede a fixed number of runs.
Mr Sreesanth, who has denied any wrongdoing, has been banned for life by the BCCI.