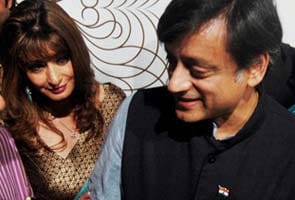 New Delhi/ Shimla:
In the verbal duelling that he prefers, Narendra Modi might just have met his match. Hours after he made an astonishingly personal attack on new central minister Shashi Tharoor, calling his wife a "50-crore girlfriend" at an election rally in Himachal Pradesh, he had an answer from Mr Tharoor who said, "My wife is priceless, beyond any imaginary 50 crores but you have to be able to love someone to understand that and we'll have to see if he is capable of understanding that."
In Himachal Pradesh's Mandi, Mr Modi, who is the ruling BJP's star campaigner, had not named anyone when he said, "Wah kya girlfriend hai. Apne kabhi dekha hai 50 crore ka
girlfriend? (What a girlfriend? Have you ever seen a 50-crore girlfriend)." But the context was clear as he said, "There was a Congress leader who was a minister. He was accused of amassing wealth from cricket. He had said in Parliament that he is not connected to the Rs 50 crore in the lady's name...And then girlfriend becomes wife, we learn some time later...the issues are still not settled and he is now made a minister."
Mr Tharoor, who staged a comeback to the government as minister of state for human resource development in Sunday's big cabinet reshuffle, was forced to resign in 2010 as a minister after allegations of a conflict of interest in promoting an IPL team for Kochi which was linked to the woman he married months after quitting office, Sunanda Pushkar. After being sworn in on Sunday, Mr Tharoor had said, "The controversies were created more by the media, the whole IPL issue has been behind me for several years now. "
Mr Modi's Himachal campaign has been marked by puns and potshots at Congress leaders, particularly Prime Minister Manmohan Singh and Congress president Sonia Gandhi. He mocked the PM yesterday calling him Maun (silent) Mohan Singh at an election rally in Himachal Pradesh. This time, however, social media is abuzz with angry comments that the Gujarat CM might have gone too far.
On Twitter, which both Narendra Modi and Shashi Tharoor prefer as a platform to share their views, people have reacted sharply.
@seemagoswami
Never mind the '50 crore girlfriend' Mr Modi, where is your humble school-teacher wife? And when did *you* last see her?
@RohanEkbote
#Modi's take on Shashi Tharoor's wife, sounds more like a Jealous single teenager's comment.. Grow up Mr. CM