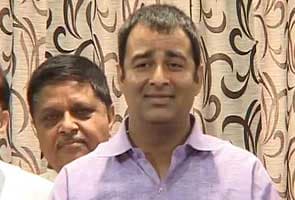 Lucknow:
Sangeet Som, a senior BJP leader in Uttar Pradesh, today denied that he uploaded a fake video that played a crucial role in the communal riots that tore through Muzaffarnagar earlier this month.
Mr Som has been accused by the police of circulating a video that claimed to show the lynching of two Hindu Jat boys; the footage was actually two years old and from Pakistan, the police has said.
"If I have uploaded a controversial CD, let them prove it," said Mr Som, who attended the UP assembly today. Despite a court issuing a warrant against him, the police has not arrested the state legislator. "It is being said that I am on the run. I am in my constituency, I have attended the Vidhan Sabha today and I have even spoken to TV channels," he said, adding, "I am ready to be arrested."
The ruling Samajwadi Party has accused the BJP of provoking the riots. The BJP says it's being made a scapegoat by a government that failed abysmally to protect its people.
(Muzaffarnagar riots: warrants against politicians, still no arrests)
In addition to posting the contentious video, Mr Som has been accused of attending a massive rally of Hindu farmers on September 7 where his colleague, Hukum Singh, addressed the audience which was clearly agitated, and armed with knives and swords.
"We went there when we were invited. The BJP did not organise the mahapanchayat," Mr Som said of the gathering, which ended with farmers being attacked as they dispersed, and triggered a brutal wave of retaliatory killings.