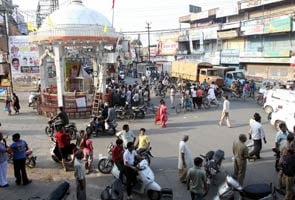 New Delhi:
Union home minister Sushil Kumar Shinde today said political parties could be behind the communal clashes in Muzaffarnagar in Uttar Pradesh, and 11 more states have been cautioned about similar violence ahead of national polls due in May.
"As elections approach, some political parties could indulge in (such incidents), it is not just this state, it has happened in other states that I will not name" Mr Shinde said, when asked about allegations of a political conspiracy behind the rioting.
38 people have been killed in the clashes that followed a large gathering of farmers to protest against the killing of two Jat brothers who had shot a Muslim man for stalking their sister in village Kawal last month. Several incendiary speeches were allegedly made by political leaders at that gathering.
The home minister reiterated that he had warned Chief Minister Akhilesh Yadav hours before the violence began on Saturday. "We have alerted 11 other states," he said.
His comments came amid a new revelation that Congress and BSP politicians held a meeting three days after the killings in Kawal, defying a police ban. Qader Rana and Jameel Ahmed of the BSP and Saeed-uz-zaman of the Congress have been booked for inciting communal tension with their speeches in that meeting.
Four BJP legislators have also been charged with instigating violence with their speeches at Saturday's farmers' gathering or mahapanchayat. One of them, Sangeet Som, has also been booked for uploading and sharing a fake video that purportedly showed the lynching of the brothers in Kawal. The police say the video is two years old, and was not even filmed in UP.
The BJP has alleged that two leaders from the ruling Samajwadi Party were also present at the gathering, but have not been named in police cases.
Get Breaking news, live coverage, and Latest News from India and around the world on NDTV.com. Catch all the Live TV action on NDTV 24x7 and NDTV India. Like us on Facebook or follow us on Twitter and Instagram for latest news and live news updates.