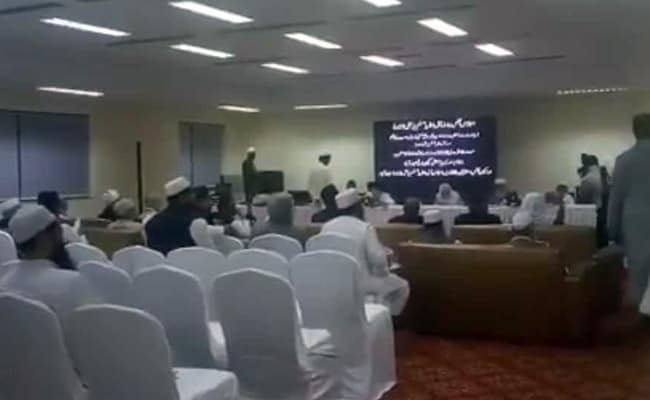 Hyderabad:
The three-day plenary of the All India Muslim Personal Law Board (AIMPLB) began in Hyderabad on Friday with the meeting of its executive. The 50-member executive, being presided over by AIMPLB president Maulana Rabey Hasani Nadvi, is discussing the "triple
talaq
" bill, community reforms and other issues.
The meeting, which began amid tight security at an auditorium at Owaisi Hospital complex, will also set the agenda for deliberations in the general body, scheduled to meet on Saturday and Sunday.
AIMPLB General Secretary Moulana Syed Wali Rahmani presented his report on the action taken on the decisions of the previous plenary. The executive is discussing developments on the "triple
talaq
" bill, which is pending in Rajya Sabha.
AIMPLB spokesman Maulana Khalilur Rahman Sajjad Nomani had said on Thursday that the bill had many flaws and it was unacceptable to them in its present form.
He said the board is ready to welcome the bill if all the flaws are removed. He alleged that though the stated objective of the bill is to ban the practice of instant "triple
talaq
", the intention of the government is to do away with the system of "
talaq
".
The executive will also review the progress made in the country-wide campaign for community reforms. It will discuss proposals to further strengthen the campaign to reach every village and every household.
The meeting will discuss how to effectively use social media to inform people of the board's activities. The executive members include MIM president and Hyderabad parliamentarian Asaduddin Owaisi.
The general body meeting will be attended by the executive, founder and general members and invitees. More than 500 religious scholars and leaders representing all Islamic schools of thought will attend the meet.
The meeting will discuss "triple
talaq
" bill in detail and will review the Babri Masjid case, currently being heard in the Supreme Court. The plenary will chalk out roadmap for the next one year and approve the budget.