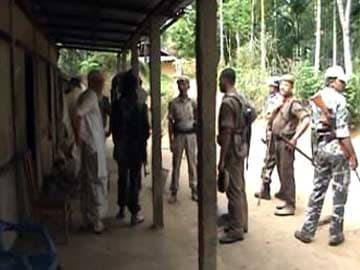 Karimganj:
An FIR or police complaint alleging murder has been filed in the case of two girls who were found hanging from the ends of the same rope on a tree in Assam's Karimganj district on Thursday.
The family of one of the girls has filed the FIR and has alleged that two local boys are involved.
Their murder allegation comes after a post mortem report said the girls had committed suicide and had not been raped.
The girls, both Class 10 dropouts and above 18, went missing on Wednesday and were found on Thursday morning by relatives, hanging from a tree barely 200 metres from the home of one of the girls, two km from the border with Bangladesh.
Locals suspected that the girls were first raped and then killed, but the post-mortem report contradicts that, say the police.
"We have received the post mortem report and it indicates that the girls died due to suicidal hanging, so they were not murdered. Both girls were above 18 and there is no evidence of rape," said Prabin Kumar Nath, Superintendent of Police, Karimganj.
The girls' family and villagers have raised doubts about the report. They say it doesn't explain how the girls hanged themselves with the same rope, and how their bodies went unnoticed so close to home.
Assam police sources had said hours after they went missing, the girls made several calls to two local boys. Their mobile phones were found to be active till at least three hours after they disappeared.
The girls' families want the boys questioned.
In May, two teenage girls who were cousins were found hanging from a mango tree in Uttar Pradesh's Badaun district. Although their families alleged the girls had been gang-raped and then hanged alive, the Central Bureau of Investigation (CBI) says the evidence does not prove sexual assault. Three accused have been granted bail as the CBI refused to charge-sheet them.