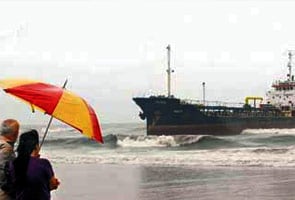 Mumbai:
At Juhu Beach, the MV Pavit has turned into a local attraction, with tourists and others taking photos of the massive ship that's been here since Sunday, when it ran aground.
But the massive ship is in fact, a 1000-ton warning sign that Mumbai remains unguarded at sea. It passed undetected through three tiers of security - the Navy, the Coast Guard and the Coastal Wing of the Mumbai Police. For a city whose worst terror attack began with the arrival of ten young Pakistanis on a boat in 2008, the new lapses are inexplicable.
Defence Minister AK Antony has asked the Navy and the Coast Guard for a detailed report.
The Pavit, 77 metres long, was registered in Panama and was abandoned near Oman about a month ago after serious technical issues with its engines. A distress call led to its crew being rescued.
It then drifted into the Arabian Sea and entered India's exclusive economic zone which extends 200 nautical miles off the Mumbai coast. For nearly 100 hours, experts estimate, the ship without any lights - an anomaly that should have attracted scrutiny - got closer and closer to India till strong currents and wind finally thrust it within feet of Juhu Beach.
That's when Ramesh, a life guard, saw it. "I came for my shift at 5.30 in the morning and I first saw the ship in the water around 50 kilometres away when I checked through my binoculars, there was no one in the ship. I informed the Juhu Police Chowkie."
The Mumbai Police denies reports that it waited for 12 hours before informing the Coast Guard, during which time the ship ran aground.
The Coast Guard says media reports and other records showed that the Pavit had been abandoned and its crew rescued after a distress call before the ship sank near Oman. So they really weren't looking out for it. The Navy says that that though radars must have shown the ship sailing into Indian waters, it was not possible to tell that the Pavit was unmanned - which would have led to an immediate alert.
Less than a month ago, Mumbai was attacked with three serial blasts. The city is meant to be on high-alert. The Pavit proves the complete lack of coordination and security that the city has to contend with.