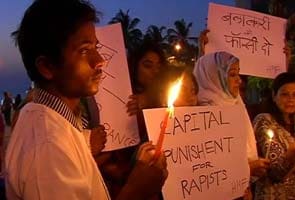 Mumbai:
The Help Mumbai Foundation, an organisation that is working to create public awareness against sexual harassment in Mumbai, organized a protest in Mumbai's Juhu Beach against the rising incidents of sexual harassment in the country.
Led by Sana Sayed, the Director of the foundation, nearly 100 people gathered at the beach holding a candle-light vigil in support of the victim of the Delhi gang-rape who is battling for her life.
Sayed told NDTV "We have filed a PIL in the High Court recently, to tackle the problem of sexual harassment especially on the crowded local trains in Mumbai. We want more women cops to be recruited. Even the Supreme Court has ordered that plainclothes policemen should be deployed but we do not see that happening."
Niharika Khanna, a 19-year-old girl, a student of Jai Hind College who was present at the protest site asks, "I have faced the problem of eve-teasing while travelling on the local trains. It is not just Delhi. In Mumbai's Bandra area a Spanish national was raped a few days back. What is tragic is that she was raped in her own house and it was close to the Additional Commissioner's office. What impression are we creating about our country?"
21-year-old Umera Khan, a Lokhandwala resident and a third-year BMM student says she joined the protests because she feels every woman is affected by what is going on.
"We face eve teasing every day. Whether it's when we are going to college or whether we are waiting for a bus at the bus stop. We have to address this issue now. This is happening everywhere. It is horrible. Women have to raise their voice. What we are wearing cannot become a topic of discussion. Women are not safe anywhere, whether it's Delhi or Mumbai, she told NDTV."
Bobby Malhotra, an advocate by profession, who works with Help Mumbai Foundation told NDTV that her organization has even prepared a draft bill to ensure that more strict laws come into force when it comes to sexual harassment.
She adds, "We have formulated a draft bill and in that we have defined sexual harassment elaborately, something that has not been done before. We are in favour of awarding the death penalty for rape."
The protesters at the vigil however agreed that very often after such incidents there is an outcry which soon subsides only to resurface after the next incident. They add that it is their challenge to ensure that the same thing does not happen this time.