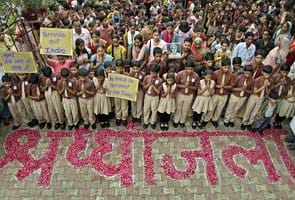 Mumbai:
Prime Minister Manmohan Singh and Sonia Gandhi have arrived in Mumbai. They are scheduled to visit those injured in yesterday's blasts at JJ Hospital.
Seventeen people are dead; 133 were hospitalised with injuries after three blasts within 12 minutes at Dadar, Zaveri Bazaar and Opera House on Wednesday. 13/7 got added to Mumbai's tragic terror calendar.
(Pics: Terror revisits Mumbai)
The city remains sealed; other metros like Delhi and Bangalore are on high-alert.
(Read: High alert in cities across India)
Security has been tightened at Mumbai's railway stations. There are sniffer dogs at big stations like CST (Chhatrapati Shivaji Terminus), Dadar, Thane, Kalyan and Lokmanya Tilak Terminus and there is extra checking and scanning of bags. People are being cautioned about unidentified objects. A security helpline can be accessed at 1275.
The Home Minister has been in the city since last night and said today that the blasts cannot be described as an intelligence failure. Senior BJP leader LK Advani countered that by saying "it's a policy failure." Mr Advani visited the sites of the terror attacks and also hospitals this morning. "
(Read: Repeated Mumbai attacks prove policy failure, says Advani)
Sophisticated IEDs, triggered by cellphone alarms
A hazy picture is gradually emerging of how the blasts took place - sophisticated Improvised Explosive Devices (IEDs) were used; they were triggered by alarms set on cellphones. No sim cards have been found at the locations of the blasts. Two of the bombs used over a kilo of explosives each.
Intelligence sources have told NDTV that the level of sophistication shown in these attacks reveals a change in strategy from earlier strikes. Sources say the group responsible was much smaller than usual and did not communicate on phone or email. It also seemed to be intimately familiar with Mumbai's commercial areas, people's habits and even knew how to use the monsoon to their advantage, the sources said.
For example, they said, the CCTV footage from Zaveri Bazaar is full of people walking with umbrellas in driving rain and, therefore, nothing is clearly visible.
The sources said old remnants of SIMI and fringe elements of the Indian Mujahideen were still the prime suspect, though officials emphasized that no one terror group had been zeroed in on as being responsible yet.
The Maharashtra Anti-Terror Squad is leading investigations along with the Mumbai Police and its chief Rakesh Maria on Thursday evening refused to elaborate on whether a dead body recovered with electric wires was suspected to be a suicide bomber. The corpse was found at the JJ Hospital in Mumbai, one of several hospitals treating those injured in the blasts.
Mr Maria said CCTV footage from all three locations was being studied. He put much in store by the forensic evidence collected and now being analysed and said it would, along with "investigators speaking to witnesses," provide important clues. He said all angles were being investigated.
In the midst of steady rain and these gritty details, Mumbaikars made their way to their offices. Don't speak of our "resilient spirit," they warned. "We expect nothing anymore," said a young woman whose office is a two-minute walk from Zaveri Bazaar.
(Read: Maximum City's controlled anger on the morning after)
No Intelligence inputs: Chidambaram
In the morning, Home Minister P Chidambaram, at a lengthy press conference, said it is critical to avoid any speculation about who is responsible for the serial blasts during rush hour. "Nobody so far has claimed responsibility for the attacks," he said.
"After a gap of about 31 months, Mumbai has suffered another terror attack. I express my regrets", Mr Chidambaram said. "They (the terrorists) chose the places because of the density of the population and the congestion in those areas," he said.
He admitted that there had been no Intelligence input but also said that, "Intelligence is collected every day, every hour. It (blasts) is not a failure of intelligence agencies...whoever has perpetrated the attacks has worked in a very clandestine manner."
(Read: Not an intelligence failure, says Chidambaram)
Traces of ammonium nitrate were found at the three locations - investigators worked all night collecting forensic evidence. The nature of the explosives will be determined by a Mumbai lab and the results will be revealed shortly, said Mr Chidambaram.
Security cameras near the three locations were expected till this morning to provide some clues. But the Mumbai Police now says that cameras at Dadar and Zaveri Bazaar have not proved to be helpful; footage from a building near the Opera House blast is still being scrutinized.
The most powerful blast of the three was at Zaveri Bazaar, but the one at Opera House - a hub for diamond traders - had the maximum impact because of the way the explosive was placed. Eleven people were killed and 73 people were injured at this part of South Mumbai.

The injured are being treated at KEM (022-24136051), Nair (022-23085379), Harkishandas (022-23855555/30095555), Saifee (022-67570111).
(Watch live video of our complete coverage)