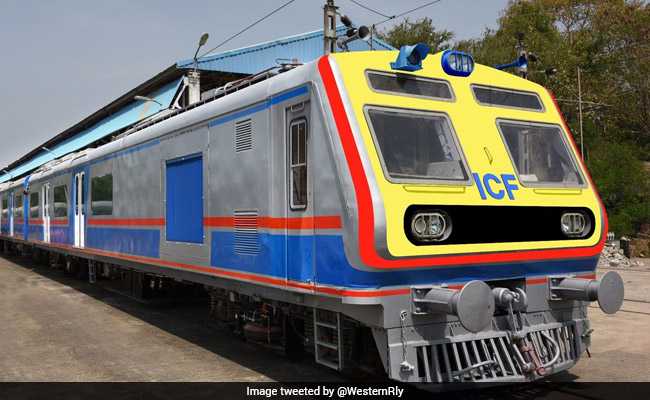 New Delhi:
In what is being described as the "Christmas gift" to Mumbai, the country's first air-conditioned (AC) suburban train made its maiden journey this morning from Borivili to Churchgate. In its first week, the Mumbai AC local, will ferry passengers from Churchgate to Borivali, and from Churchgate to Virar from next week onwards. Thousands of excited commuters crowded the stations along the line and clicked selfies before hopping on the swanky local, the city's lifeline.
Here are 10 points on Mumbai AC local:
The fully air-conditioned 12-coach train was flagged off from Borivali at 10.30 am by railway officials, BJP leaders, local lawmaker Gopal Shetty and Maharashtra's Education Minister Vinod Tawde.

Built in Chennai at a cost of Rs 54 crore, the Mumbai AC local was meant to be run on the Central Railway (CR) corridor. However, later it was decided to run it first on the Western Railway (WR) corridor.

The WR conducted about 65 trial runs of the train before starting its services today.

Initially, the AC local will operate only on the Churchgate-Borivili section. The train will make six trips (12 services per day) and from January 1 next year, it will run from Churchgate to Virar.

"The train will not operate on Saturdays and Sundays as it requires maintenance," he said, adding that the 12 services of the AC train will replace the existing 12 non-AC services.

The full AC air-suspension coaches will carry nearly 6,000 commuters per rake. Just like the Metro trains, these coaches will also have automatic door opening-closing system.

Emergency Talk Back system between commuters and guard besides a public address system, advanced GPS-based passenger information system, air-tight vestibules connecting all 12 coaches are some of its other features.

"The automatic doors will keep us safe and the AC makes it comfortable too. The emergency communicator, a safety feature in which passengers can directly communicate with the guard of the train, is impressive," a passenger said.

The base fare of the single journey of the Mumbai AC local will be 1.3 times of the base fare of the existing fare for a single journey by first class. However, passengers will be charged 1.2 times the first class ticket cost in the initial six months. Unlike regular local trains, the AC service will have a special weekly and fortnightly season ticket.

Kailash Verma of the Mumbai Rail Pravasi Sangh, said, "The commissioning of this train is a testimony that the Indian Railways is trying hard to meet the demands of the passengers. I hope that maintenance and punctuality of the trains will be monitored on priority."
Post a comment