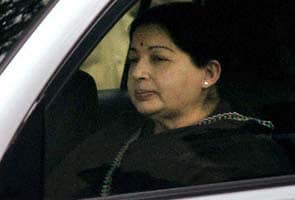 Chennai:
Tamil Nadu Chief Minister J.Jayalalithaa on Wednesday requested Prime Minister Manmohan Singh to advise the Kerala government "not to venture upon a new dam" and also not to whip up a sense of fear among the public about the safety of the Mullaperiyar Dam.
In a letter to the Prime Minister, copies of which were released to the media here, Jayalalithaa requested Manmohan Singh to advise the Kerala government to "honour the rights guaranteed to the Government of Tamil Nadu under the 1886 Agreement followed by the Supplemental Agreements of 1970 in letter and spirit" and abide by the Supreme Court's Feb 2, 2006 order and repeal its amended Act of 2006.
She also sought he "advise the Government of Kerala not to venture upon a new dam as the present dam is functioning well and also since the whole issue is sub-judice before the Hon'ble Supreme Court and the Empowered Committee; not to whip up fear and panic among the people to gain political mileage".
Referring to his meeting with Kerala Chief Minister Oommen Chandy, where Chandy had pressed for a new dam in the place of Mullaperiyar, Jayalalithaa said the Kerala government has been harping on this point for quite some time.
This in spite "...of the fact that the existing dam has been proved to be safe and can store water up to 142 feet as decided by the Supreme Court as early as in 2006," her letter notes.
"The Government of Kerala seems to be intent on whipping up a fear psychosis and panic among the people of Kerala and to influence the Empowered Committee, appointed by the Supreme Court of India, by submitting a report based on fear perception rather than facts," the letter notes.