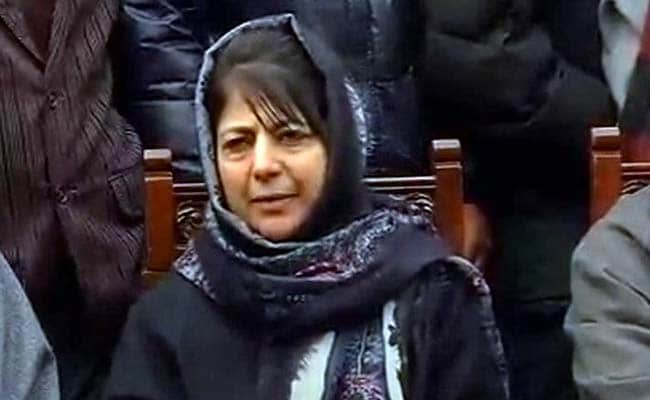 Jammu:
There is fresh speculation on whether Mehbooba Mufti will take oath as chief minister of Jammu and Kashmir, after her mother Begum Gulahan Ara moved out of the official residence allotted to the chief minister in Jammu, the winter capital of the state.
Begum Ara moved the family's personal belongings out of the sprawling Jammu bungalow earlier this week, sources said. Her husband Mufti Mohammad Sayeed, who was chief minister, died in harness on January 7.
Their daughter and chief of the People's Democratic Party has been expected since to take over as the state's chief minister, but she has kept everyone, including ally BJP, in suspense, refusing to take oath well past the end of state mourning for her father.
Begum Ara and Mehbooba Mufti are now living at their Fairview residence in Srinagar where Mufti Mohammad Sayeed stayed when in the state's summer capital. Sources pointed out that the Fairview house is not designated the official Chief Minister's residence and Ms Mufti is entitled to live in it even in her capacity as a Member of Parliament.
After Jammu and Kashmir gave a majority to no party in elections in December 2014, largest party PDP had tied up with the second largest BJP in an uncomfortable alliance of ideological opposites.
Mufti Sayeed was seen as the chief architect of the partnership, secured after lengthy negotiations and based on a common agenda of governance, which factored in substantial assistance from the BJP-led Central government.
After Mufti Sayeed's death, Ms Mufti is said to be analysing whether the partnership has yielded the results that the regional party wanted.
The BJP, which has 25 legislators to the PDP's 27 in the 87-member Assembly, has made it clear that it wants the alliance to continue and is waiting for the senior partner to pick a chief minister.
A decision soon seems unlikely. PDP sources said Ms Mufti has convened a series of party meetings over the next week to discuss government formation.
As everyone waits for Ms Mufti to decide, Governor's rule has been imposed in Jammu and Kashmir.