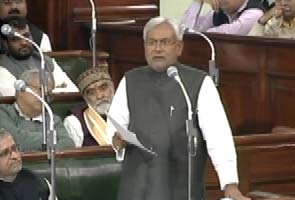 Patna:
Bihar Chief Minister Nitish Kumar today slammed Press Council of India Chairman Justice Markandey Katju for his report that slams the state government for curbing press freedom in Bihar. "Mr Katju you've dialled wrong number," said Mr Kumar.
Calling the report "biased and motivated", a visibly upset Chief Minister said on the floor of Bihar assembly, "Mr Katju has crossed the lines and attacked me without substance."
Mr Kumar accused Justice Katju, a retired Supreme Court judge, of suffering from a "jaundiced view" about the state and dubbed the report as a conspiracy to defame him.
"Mr Katju says all kind of things about state, and particularly me. I kept silent as it is not my habit to spar with any authority who enjoys such quasi-judicial power. But enough is enough," he said.
"You issue a statement first and then you order an inquiry, and after the so-called inquiry committee submits the report, you decide to leak it out from your own email id without getting it passed from full Press Council of India which has been the practice so far. Just because you're the grandson of eminent jurist Kailash Katju about whom we grown up reading and I'm the son of a
vaidya
(an Ayurvedic practitioner) you will say all kind of things. What kind of justice it is?" added Mr Kumar.
Justice Katju had visited Bihar on twice last year and lambasted Mr Kumar's government for press censorship and coercive attitude towards the media. He also accused the Bihar government of denying advertisements to those publications who criticise the chief minister.
But Mr Kumar today defended his government's advertisement policy and said that it has remained consistent over the years.
Mr Kumar's attack on Justice Katju came days after BJP leader Arun Jaitley hit out at him for exceeding his constitutional brief by attacking Gujarat Chief Minister Narendra Modi and questioning his prime ministerial credentials.