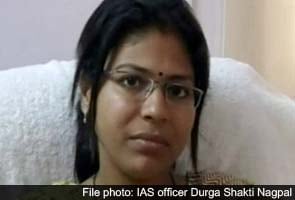 Lucknow:
A member of Uttar Pradesh's Waqf Board has said that suspended IAS officer Durga Shakti Nagpal did not order the demolition of the wall of a mosque being built in a Greater Noida village last month. He has also alleged that the wall was demolished on the orders of the area's land and sand mining mafia to frame the officer.
Despite a national uproar, the Samajwadi Party government in the state has refused to reconsider Ms Nagpal's suspension. It is investigating the 28-year-old officer for allegedly endangering communal harmony by ordering the demolition.
But her supporters and colleagues say she is being persecuted for taking on the politically-connected sand mining mafia in Uttar Pradesh. A charge that Waqf Board member Kadir Khan Jayaswal supported when he told NDTV, "She did not order the demolition. After she left the site, the local mafia pulled it down."
Mr Jayaswal said the officer had only gone to the village on July 27 to investigate a complaint that the mosque was being built without permission.
He said Ms Nagpal was also investigating a complaint that the local mafia had grabbed land worth crores belonging to the Waqf Board. "They are supporters of the Samajwadi Party. To protect them, this matter was made up", Mr Jayaswal alleged, adding, "As soon as this investigation would have been completed, the men who grabbed our land would've gone to jail."
Chief Minister Akhilesh Yadav has denied that Ms Nagpal's suspension had anything to do with her efforts to curb illegal sand mining. In a 10-page chargesheet his government has also accused her of flouting rules and lacking administrative acumen.
His father and SP chief Mulayam Singh Yadav said yesterday that the decision was "correct, final". He said that soon after Prime Minister Manmohan Singh said at Parliament, "There are rules laid down and the rules will be followed." Congress president Sonia Gandhi has written to the PM in support of Ms Nagpal.
(Akhilesh correct in suspending IAS officer Durga, decision final: Mulayam Singh Yadav)
For the Centre, it's a challenging controversy. The SP's 22 Lok Sabha MPs are crucial for ensuring that the minority government is able to clear important legislation in the monsoon session of parliament that began yesterday.
Get Breaking news, live coverage, and Latest News from India and around the world on NDTV.com. Catch all the Live TV action on NDTV 24x7 and NDTV India. Like us on Facebook or follow us on Twitter and Instagram for latest news and live news updates.