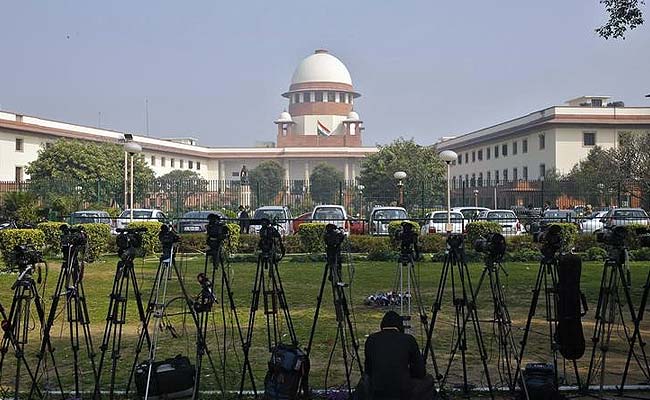 New Delhi:
Concerned over a backlog of more than three crore cases in courts across the country, Chief Justice of India HL Dattu has asked the Chief Justices of all High Courts to ensure expeditious disposal of cases pending for five years or more.
A Supreme Court official said that the CJI has written a letter to all High Court Chief Justices asking them to look into the dockets of cases pending for five or more years in subordinate judiciary of all states.
According to data available with the apex court, the number of pending cases with the Supreme Court is 64,919 as on December 1, 2014.
The data available for the 24 High Courts and lower courts up to the year ending 2013 showed pendency of 44.5 lakhs and whopping 2.6 crores, respectively.
Of the over 44 lakh cases pending in the 24 high courts of the country, 34,32,493 were civil and 10,23,739 criminal.
The maximum pendency of civil and criminal cases together was in Allahabad High Court with 10,43,398 cases while the minimum was in Sikkim with 120 cases pending at the end of 2013. The Delhi High Court had a total of 64,652 cases pending before it.
As per the data, the Allahabad High Court had the maximum number of pending criminal cases - 3,47,967.
Of the 2.6 crore cases pending in lower courts, Uttar Pradesh subordinate judiciary tops the chart with over 56 lakh cases pending by the end of 2013, out of which 41,98,761 are criminal matters.
Delhi district courts recorded a total of 5,22,167 pending cases, including 3,81,615 criminal cases.
The CJI came out with an innovative idea of expeditious disposal of cases by setting up a special "social justice bench" to deal with the pendency of cases having social issues which are on rise and needs specialised approach.
The CJI has also been emphasising on the disposal of petty, compoundable (cases which can be compromised) criminal matters and other civil disputes through Lok Adalats as an alternate dispute resolution mechanism where decisions are arrived at amicably and can't be appealed against.
Union Minister for Law and Justice DV Sadananda Gowda, also flagged similar concerns and said amendments in law are also required to speed up the disposal process.
Mr Gowda, who was speaking at the Bar Council of India on Friday, suggested amending the Motor Vehicles Act, Negotiable Instruments Act and the Arbitration and Conciliation Act to dispose of petty offences, relating to accidents, cheque- bouncing as well as civil suits like family and property disputes and company matters that consume the courts' precious time.
He said that in order to facilitate expeditious disposal of cases, the government is "seriously thinking" making mandatory pre-trial conferences under which both defence and prosecution lawyers will be asked to refrain themselves from seeking "unwarranted" adjournments.
"They (lawyers) will be asked to file necessary statements and evidence without any delay to ensure speedy trial of the case," he said.