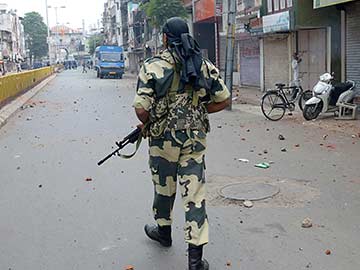 Vadodara:
More than 200 people have been arrested in the town of Vadodara in Gujarat after days of communal tension and violence between Hindus and Muslims.
The clashes began on Thursday after an image that was offensive was posted on Facebook and WhatsApp; members of the two communities threw stones at each other and set vehicles on fire.
Over a dozen people have been injured since then, one of them in a case of stabbing yesterday but officials say all injuries reported are minor.
Vadodara is 120 kilometres from Ahmedabad. This morning, shops in the affected areas of Fatehpura and Yakutpura re-opened for business as the town tries to return to normal.
Gujarat's government deployed riot police to control the clashes over the weekend and appealed to religious leaders to intervene to curb them. Mobile telephone Internet and bulk text messaging has been suspended till tomorrow as a precautionary step.
"We have now arrested over 200 people from both the communities in the last three days," said DJ Patel, additional commissioner of Vadodara police. "The man, a teacher, who posted the controversial message on WhatsApp has also been arrested," he added, disclosing that said some of the 200 people were detained for taking part in, while others were arrested to prevent further unrest.
The Vadodara riots coincide with Prime Minister Narendra Modi's visit to the United States where he will meet President Barack Obama today and tomorrow during a trip to emphasize India's economic potential.
The PM, who was Chief Minister of Gujarat till he was elected to the country's top job, contested and won Vadodara in the national election in May, but gave up the seat later, choosing to represent Varanasi in Parliament.
His party, the BJP, won the Vadodara by-election recently.