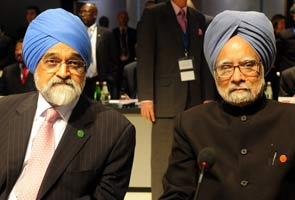 New Delhi:
Under fire from all quarters over its Rs 32-a-day definition of poverty line, Deputy Chairman of the Planning Commission, Montek Singh Ahluwalia, will make a statement today to clarify the panel's stand.
Mr Ahluwalia will also meet Rural Development Minister Jairam Ramesh to discuss the issue.
A cornered government had said that the Planning Commission's affidavit on number of people living Below Poverty Line (BPL) was not the final document and that these figures could undergo a change.
Mr Ahluwalia met the Prime Minister over the issue on Sunday, soon after he returned after a 10-day overseas trip.
Members of the National Advisory Council (NAC) and several leading economists challenged the Planning Commission's definition of poverty.
NAC member NC Saxena even lashed out at the plan panel's affidavit saying, "On Rs 32 a day, you know only dogs and animals can live." He further said, "People who are spending below Rs 32 (a day)... they are poorest of the poor. You can call them destitute; you can call them people living in sub-human level."
During his meeting with the Prime Minister yesterday, Mr Ahluwalia is believed to have discussed the fallout of the controversy relating to the affidavit, which said that persons consuming items worth more than Rs 32 per day in urban areas (Rs 26 in rural areas) are not poor.
As per the affidavit, a family of five spending less than Rs 4,824 (at June, 2011, prices) in urban areas will fall in the BPL category. The expenditure limit for a family in rural areas has been fixed at Rs 3,905.
The number of poor entitled to BPL benefits, as per the affidavit, has been estimated at 40.74 crore, as against 37.2 crore estimated at the time of accepting the Tendulkar Committee report.
Officials in the Planning Commission have said that providing benefits to more persons would defeat the purpose of the anti-poverty programme.
Congress General Secretary Rahul Gandhi is believed to have intervened in the matter and has reportedly asked the Plan panel to do a rethink on its definition of poverty. Mr Ahluwalia is also scheduled to meet Rural Development Minister Jairam Ramesh on Monday to discuss the issue.
(With PTI inputs)