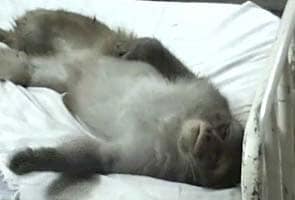 Jammu:
Have you ever seen humans and monkeys together inside hospital wards? Probably not. But in the emergency ward of the government medical college in Jammu, a monkey occupied one of the beds scaring away patients.
The imminent threat of an infection also kept the patients away from the hospital. But the monkey remained undeterred.
"I came to show my child, but you can see the situation. It looks less like a hospital for humans and more for animals. The monkey is on the next bed and four-five dogs are roaming outside, the hospital looks like a zoo," said a patient.
"Nobody from administration is around, dogs and monkeys are everywhere. My relative got fruits for the patient, but the monkey snatched it," said a patient's relative.
The incident shocked the state's Chief Minister too. "I am shocked by the images of the monkey in a Jammu hospital. Before I say anything I owe it to my Minister to first ask him to explain," Omar Abdullah tweeted on Tuesday.
The monkey may have sneaked in to avoid the heat, but it slept in the hospital for more than three hours before it was taken away. Also, at the door of the emergency ward was a pack of dogs, literally making the corridors of the hospital their home.
The state already has a bad reputation when it comes to healthcare, and an incident like this is likely to dent its image further. Just a couple of months back, the shameful death of infants in this Srinagar hospital hit the headlines.