New Delhi:
The Narendra Modi government's
foreign policy on Pakistan
and China is a "disaster" and a review is overdue, the Congress said in its plenary session today. Former Prime Minister Manmohan Singh underscored the need for a dialogue and the party's senior leader Anand Sharma accused the government of pursuing a "
personalised national policy
" instead of developing one that is based on broad consensus.
"With regard to Pakistan, we must recognize that Pakistan is our neighbor and a proper roadmap is needed to go forward. Both countries must sit together to iron out issues," said Dr Singh, who had been the Prime Minister for a decade before the BJP won a sweeping victory in the 2014 general elections.
"Congress is of a considered view, that the BJP Government has no roadmap and its Pakistan policy has been a disaster. Review of the policy is overdue, and any successful policy can only be based on a national consensus with a focus on both current and long term objectives," a resolution passed by the party read.
Any successful policy can only be based on national consensus, with a focus on both current and long-term objectives, the party said.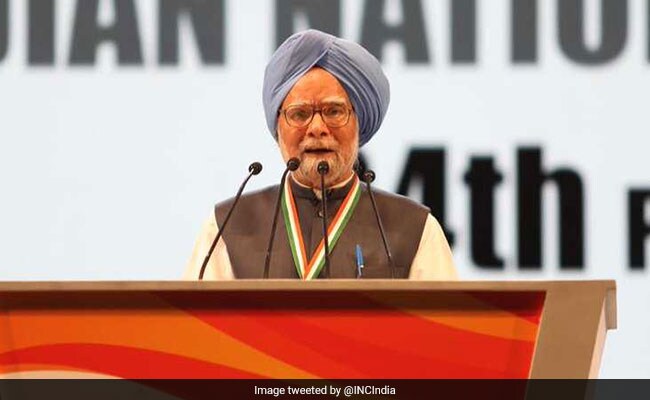 Pointing out that successive governments formed by the Congress, starting with first Prime Minister Jawaharlal Nehru, had been "marked with continuity and backed by strong national consensus", the party resolution accused the government of conducting the foreign policy in a "cavalier manner". This, the party said, has 'damaged India's profile globally and undermined national interest," the party's resolution said.
The Congress attack over the government's Pakistan policy has sharpened following the spate of major terror attacks in Jammu and Kashmir, the last of which took place in February at an army camp in Sunjwan and resulted in the deaths of 10 people, six of them army personnel. The attack -- the biggest since the terror strike at the army camp in Uri -- attack took place in September, nine months after PM Modi's unexpected stopover at Lahore. At the time, the Congress had vociferously criticized the government policy on Pakistan.
Last year, an unprecedented war of words broke out between the Congress and the BJP after PM Modi said Congress leaders had discussed the Gujarat election with Pakistani guests at a recent dinner hosted by suspended Congress leader Mani Shankar Aiyar.
The Congress said the discussion was on India-Pakistan ties and not domestic politics. Dr Singh, who was one of the guests, said he was "deeply pained and anguished" by the "canards" that were being spread. The controversy had stalled parliament for days.
Get Breaking news, live coverage, and Latest News from India and around the world on NDTV.com. Catch all the Live TV action on NDTV 24x7 and NDTV India. Like us on Facebook or follow us on Twitter and Instagram for latest news and live news updates.