New Delhi:
Highlights
Manmohan Singh attacked the government over handling of Jammu and Kashmir
The situation in the state is worsening by the day, said Dr Singh
He also said India must recognize the "problems in Jammu and Kashmir"
Former Prime Minister Manmohan Singh today accused the Narendra Modi government of "mismanaging" the situation in Jammu and Kashmir "like never before". The situation in Jammu and Kashmir is worsening by the day, said Dr Singh at the party's 84th Plenary session that's being held in New Delhi.
Indicating the tensions inherent in the alliance of BJP and the PDP, parties with a huge ideological gap, Dr Singh said "they have installed a government where the two wings of the administration are working against each other".
The BJP-PDP alliance - made necessary by the fractured mandate in the state following the 2015 assembly elections -- has been under strain over various issues on which the two parties have widely divergent views.
The rift had been visible over PDP's promises of talks with separatists, the proposal to remove the AFSPA (the Armed Forces' Special Powers Act under which grants special powers to the army in insurgency-hit areas), the implementation of the Common Minimum Programme and even the roll-out of the government's flagship Goods and Services Tax.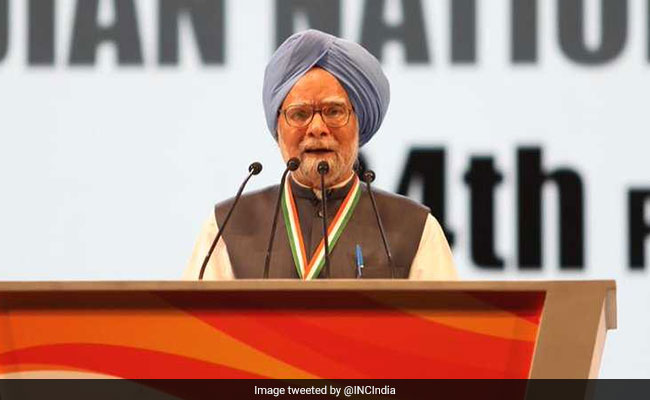 Last week, concerns were raised about the future of the alliance after the sacking of senior PDP minister Haseeb Drabu - the BJP's main conduit Mehbooba Mufti's party since the death of her father Mufti Mohammad Sayeed. The top BJP leadership summoned the state leaders to discuss possible repercussions on the alliance and mediate on ways to resolve the situation.
Over the last two years, Kashmir has witnessed a spike in local sympathies for terrorists - villagers have protested every time anti-terror operations are on and refused to cooperate with security forces. Law and order has also taken a beating following the six-month long stone-throwing protests following the killing of Hizbul Mujaheedin terrorist Burhan Wani had all but shut down the Valley in 2016.
India must recognize the "problems in Jammu and Kashmir" and ensure that these problems are "tackled and sorted", Dr Singh said.
Get Breaking news, live coverage, and Latest News from India and around the world on NDTV.com. Catch all the Live TV action on NDTV 24x7 and NDTV India. Like us on Facebook or follow us on Twitter and Instagram for latest news and live news updates.