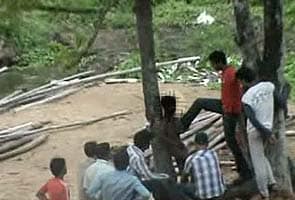 Bhubaneswar:
An MMS in Cuttack, Orissa has shocked the courts and the police. Shot allegedly by a female college student, the video shows a 12-year-old boy being stripped, tied to a tree and then tortured by three young men.
They were arrested today, after the Orissa High Court intervened, demanding an explanation from the police.
According to the police, the young boy's mother asked the attackers - who were related to her - to discipline her son who she believed was addicted to drugs. The child's father works in a furniture workshop.
The video was shot in October. The child is still with his parents.
"The findings of the inquiry has prompted us to move the Child Welfare Committee to ensure rehabilitation of the child in a residential school for child labourers," Additional District Magistrate Dhiren Patnaik said. "We will however, allow the child to stay with his parents for a few more days," he added.
The video has been publicised by various NGOs to demand punishment for the attackers.
Various lawyers' associations in Cuttack have asked members not to defend the three attackers.