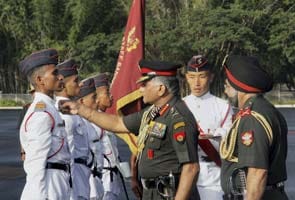 Pune:
A day before his retirement, Army Chief General VK Singh on Wednesday declined to comment on Lieutenant General Tejinder Singh's complaint to the Defence Minister in the defamation row, saying that raising voice against corruption is everybody's movement and controversies did not concern him ever during his tenure as the Army Chief.
Speaking at the National Defence Academy's passing out parade in Pune, he also said that there was no misunderstanding between the Army and Ministry of Defence (MoD). The Army chief was at the centre of a controversy when a letter, written by him to Prime Minister Manmohan Singh pointing out lack of ammunition with the army, was leaked to the media.
Earlier, addressing the cadets, the army chief stressed on upholding moral and ethical values.
"You should lead by the respect of the people you command. A correct mix of moral and ethical values is needed. Never let personal gains override your professional duty and responsibility. It's the harder right than the easier wrong that you have to pursue. Today, when India is surging high, there are exciting times ahead. You will lead the future," he said.
Talking about his journey as Army chief, he said, "I want to be remembered as a soldier and as somebody who tried to uphold what Army stands for. Most important target was transformation of Army, change in mindset. It can't be done in 1 or 2 years, it will take at least 20 years. We have started the journey."
"There is no misunderstanding between the Army and MOD. Whatever we say it is listened to, there are procedures. Raksha Mantri (Defence Minister) is clear headed in supporting the armed forces," he said.
He said that all three units of the armed forces were prepared to face any challenged and modernisation would help the forces further build their capacity.