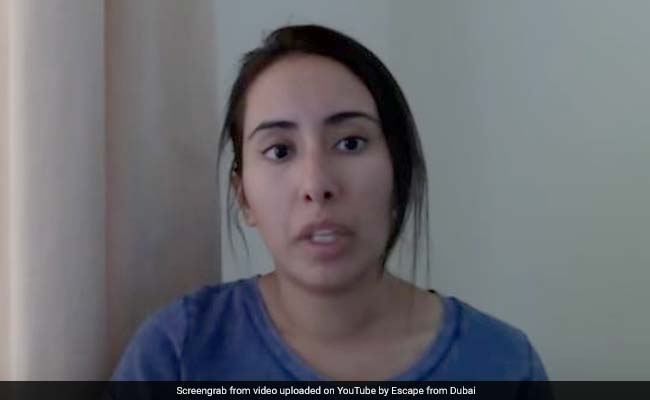 Highlights
Princess Latifa is said to be the daughter of the Prime Minister of Dubai
Ex-French intelligence officer was reportedly helping her escape
Sheikha Latifa has talked about her mistreatment by her father
NEW DELHI:
The Dubai royal
"kidnapped" off the coast of Goa
has been taken back to the UAE with the help of India, according to French-American national Herve Jaubert who was also accompanying her. Mr Jaubert says he was also taken back to the United Arab Emirates earlier this month and detained for days before his release.
Princess Sheikha Latifa is said to be the daughter of the Prime Minister of Dubai Sheikh Mohammed Bin Rashid Al Maktoum, he said.
The 62-year-old, described as a highly-trained former French intelligence officer, was reportedly helping the member of Dubai's royal family make the dramatic escape due to torture and ill-treatment by her father,
which was recorded in this statement.
In this video statement put out
after his release, Mr Jaubert describes in vivid detail how the Indian Coast Guard took over his yacht Nostromo on March 4. UAE had deported Dawood aide Farooq Taqla four days later, on March 8.
India's foreign ministry has not responded to allegations of the operation off the Goa coast. When NDTV first reported this story in early March, Coast Guard's deputy commandant Avinandan Mitra had insisted they did not have any information about the operation.
Several officials of the Indian Coast Guard including its public relations officer RK Singh have since then declined to comment.
The first information about the operation had come out after Sheikha Latifa sent out frantic WhatsApp messages on March 4, alleging that she and her American friend Herve Jaubert were "surrounded by men" who were firing at them.
"This could be the last video I make..." the young woman had then said into the camera, detailing her life as a member of Dubai's royal family. UK-based agency Detained in Dubai was one of the numbers they had called for help.
"We were attacked by Indian forces who boarded us from Indian Coast guard boats. They were about 12 armed men," Herve Jaubert claims in the new video statement.
Once they had taken control of the vessel, UAE officers followed in. The vessel was refueled and their journey began back to the Emirates.
Curiously, Mr Jaubert claimed the coast guard vessels - he called them warships - were armed with cannons and missiles. "They hunted us, they found us, and they attacked us with no warning, no notice, no radio call...Just plain military attack," he said.
Back in UAE, he went on, they were blindfolded, handcuffed and jailed although Herve Jaubert has no idea of the exact location of their detention.
"They told me that although I did not break any laws in the water, I broke Islamic Law. Because under Islamic law, women have to be in the custody of a father, husband or brother. So when I helped Latifa to escape, they viewed that as kidnapping her from her father; and that is how they justified their military operation against Nostromo, abducting us, and taking us back to the UAE," he said.
Radha Stirling of Detained in Dubai told NDTV that Mr Jaubert is on his way to Sri Lanka now but they were still concerned for his safety.
"He is not only a victim, but a material witness to the acts committed by the United Arab Emirates and Indian Armed Forces, and we have every reason to believe that all parties involved in the illegal commandeering of Nostromo may wish to prevent Herve's testimony from ever being heard.''