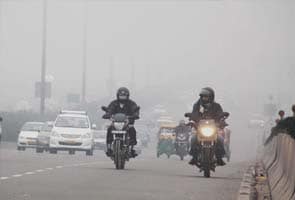 New Delhi:
Cold wave persisted in North India with mercury staying below normal in most parts on Monday even as Jammu and Kashmir got some respite from freezing conditions following snowfall in the valley.
In Jammu and Kashmir, a spell of dry and intense cold conditions was broken as some parts of the Valley received light snowfall on Sunday night, bringing considerable improvement in the temperatures.
Much to the relief of residents, night temperature across the valley rose by several degrees, though it stayed at sub-zero level.
The minimum temperature in summer capital Srinagar was just a little below the freezing point at -0.4 degree Celsius, an increase of over four notches from Sunday's minimum of -4.8 degree Celsius.
The minimum temperature in Pahalgam hill resort in south Kashmir increased by over six degrees to settle at -5 degree Celsius from the previous night's -11.4 degree Celsius, the spokesman said, adding the resort received a snowfall of 4 cm.
The ski-resort of Gulmarg, which shivered at a low of -8 degree Celsius the previous night, recorded a low of -6 degree Celsius, he said.
National capital Delhi had a partly cloudy day with cold winds blowing across the city and minimum temperature remaining below normal.
The night temperature dropped to 6.7 degrees Celsius from Sunday's seven degree Celsius, while maximum temperature remained one notch above normal and was recorded at 22.3 degree Celcious, according to MeT department.
The city witnessed shallow fog in the morning which precipitated away as the day progressed.
In Himachal, there was a marginal rise in mercury even as cold wave sweeping the hills and valleys persists.
Minimum temperature stayed three to six degree above freezing point in most places in non tribal areas.
While Manali recorded minimum temperature at 3.0 degree, a rise of seven degree since yesterday, Solan was coldest in non-tribal areas with a low of 0.8 degree Celsius.
Udaipur and some other places in tribal Lahaul Valley had another spell of mild snowfall.
In neighbouring states of Punjab and Haryana, the Sun continued to play hide and seek at several places and cold wave continued unabated.
The minimum temperature in most parts of the region hovered between one to two notches below normal, the MeT office said.
Foggy morning and misty conditions prevailed at several places, including Ambala, Hisar, Ludhiana, Amritsar and Patiala.
Amritsar was the coldest at 2.8 degrees Celsius, two notches below normal while Ludhiana recorded a low of seven degrees Celsius, one notch below normal and Patiala had a minimum of 7.5 degrees Celsius.
Chandigarh registered a low of eight degrees Celsius while Amabla recorded 7.8 degrees Celsius.
In Uttar Pradesh mercury stayed below normal in most places with capital city Lucknow recording the minimum temperature at 2.0 degree celsius.
Night temperature was markedly below normal in Gorakhpur, Allahabad, Kanpur divisions, appreciably below normal in Varanasi, Faizabad, Lucknow divisions, below normal in Bareilly, Moradabad, Agra divisions and normal elsewhere, MeT officials said.