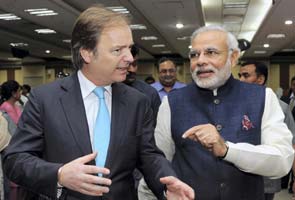 Ahmedabad:
UK's Minister of State for the Foreign Office Hugo Swire today met Gujarat Chief Minister Narendra Modi, and later said it was "a logical next step" in his country's relations with Gujarat.
The meeting comes after UK decided to re-engage with the state recently, ending the boycott post-2002 riots.
Mr Swire is the first minister from UK, or for that matter any European country, to meet Mr Modi after the riots. The meeting took place in Gandhinagar, the state capital.
"My visit today has been the logical next step since our decision to re-engage with the democratically elected leadership of this important state," Mr Swire said, after the 30-minute-long meeting with Mr Modi.
Mr Modi said the UK-Gujarat ties were now on a fast track.
The UK minister, however, evaded a reply when asked whether he invited Mr Modi to visit UK. "What you are witnessing is a gradual scaling up of the relations between Gujarat and UK.
First our high commissioner visited Gujarat in October last year, and it is followed by my visit today," he said.
The UK which, had boycotted Modi government after the 2002 riots citing large-scale human rights violations, changed the policy last October, just before the Gujarat elections.
"I am confident that active engagement is the best way to pursue British interests in Gujarat. This includes support for the British nationals in Gujarat, for the large Gujarati community in the UK, for human rights, and good governance," Mr Swire said.
He also said that he raised the issue of human rights and situation of minorities with Mr Modi.
"The Chief Minister listened to us very carefully and he also spoke about the situation of minorities and what the state government was doing for them, and how a small Jewish population and small Christian population have settled here."
Mr Swire said the two also discussed progress of the case related to the killing of two British nationals during the 2002 riots.
"Apart from that, our discussions were on the issue of coalition politics and situation in India, safety of women and a lot about business opportunities," Mr Swire said.