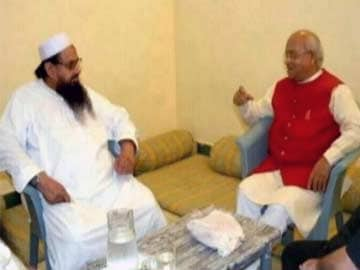 New Delhi:
A meeting between 26/11 mastermind Hafiz Saeed and a journalist considered close to yoga teacher Ramdev has provoked a controversy in India.
Ved Pratap Vaidik, a freelance journalist, met the Jamaat-ud-Dawa chief in Lahore on July 2, while touring Pakistan along with a group of journalists and politicians invited by a peace research institute.
A photograph of that meeting has triggered a storm on social media with the Congress raising Mr Vaidik's reported proximity to the ruling BJP.
Senior Congress leader Digvijaya Singh tweeted, "Ved Pratap Vedik meets Hafiz Sayeed. Any reaction on Social Media? Did he go as an Envoy of NDA Govt or as a personal Envoy of PM?"
Mr Vedik is known for mediating between the UPA government and Ramdev two years back.
New Delhi accuses Hafiz Saeed, the founder of Pakistan-based terror outfit Lashkar-e-Taiba, of plotting a series of strikes in India including the 2008 Mumbai attacks in which 166 people were killed.
Though he is on India's most wanted list and has a US bounty of 10 million dollars on him, Saeed enjoys a free run in Pakistan and often addresses public rallies in which he routinely makes inflammatory statements.
The BJP condemned Mr Vaidik's meeting with Saeed and distanced itself from the journalist. "Why he met him and what was his intention, he should tell this himself," said the party's Mukhtar Abbas Naqvi.
Mr Vaidik, 69, says he met Saeed as "a journalist must meet all kinds of people." He added, "For a journalist, no one is untouchable. I wanted to prove him wrong and influence his thinking." He reportedly also had a meeting with Pakistan Prime Minister Nawaz Sharif.
He says to a question on Prime Minister Narendra Modi visiting Pakistan, Saeed told him he is "welcome".
Saeed reportedly also told Mr Vaidik that he hadn't done anything wrong. "I asked him, are all these countries mindless? He told me former home minister of Pakistan Rehman Malik conspired against him because America wanted him. He arrested him because they wanted the money," the veteran journalist said.
Ramdev, a strong supporter of the BJP and Mr Modi, is also facing questions over the meeting.
The yoga teacher has reportedly said he believed Mr Vaidik only wanted to influence the terror mastermind.