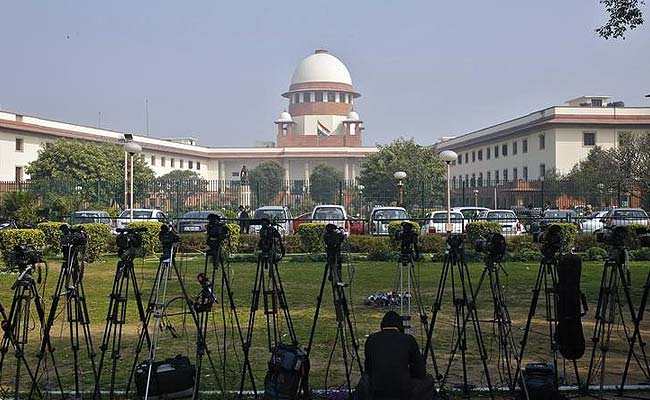 New Delhi:
Medical expenses of judges and their families cannot be made public under Right to Information Act (RTI), the Supreme Court ruled today, maintaining there should be "some respect for privacy".
"There should be some respect for privacy and if such informations are being disclosed, there will be no stopping.
"Today he is asking informations for medical expenses. Tomorrow he will ask what are the medicines purchased by the judges. When there will be a list of medicines he can make out what type of ailment the judge is suffering from. It starts like this. Where does this stop," a bench headed by Chief Justice HL Dattu said.
The bench, also comprising justices Arun Mishra and Amitava Roy, refused to interfere with the Delhi High Court verdict dismissing a plea seeking details of medical reimbursements of Supreme Court judges, saying it had personal information and providing it would amount to invasion of their privacy.
The apex court was hearing an appeal filed by RTI activist Subhash Chandra Agarwal against the April 17 judgement of a division bench of the High Court which had upheld the decision of its single judge that information about reimbursement of medical bills of judges and their families cannot be disclosed under the transparency law.
The single judge had set aside the Central Information Commission's (CIC) direction holding that judges have to disclose such information.
The apex court did not agree with advocate-activist Prashant Bhushan that since citizens are entitled to know how public money is spent by other public servants, they also have a right to know how these funds are being utilised for medical treatment of judges.
The bench was not in agreement with Mr Bhushan, who said when it comes to demand for providing information about politicians, bureaucrats and other public servants, the Supreme Court passes "good judgements" but there is an impression that same yardstick and principle is not applied when information relating to judges is sought under RTI.
"The court sits in judgement on its own cause. The apparent conflict of interest arises," he submitted, adding reimbursement of medical bills of judges was made from the Consolidated Fund of India.
"Can it then be said that reimbursement of medical bill from consolidated fund has no relation to public activity or public interest," the activist-lawyer argued.
Mr Bhushan said the case was important and sensitive because whatever would be applied to the judges would automatically set a precedent and be applied to other public servants on the issue of medical bills.
"So can't say one law will apply to judges and other law will be applicable on other public servants. That will defeat the purpose of RTI law," he submitted and added the plea was only for seeking information on medical bills and not the type of ailments.
He assailed the High Court's order which said providing such information would lead to invasion of privacy.
"That is my (public) money which goes for reimbursement. Am I not entitled to know how it is spent? How is this an invasion of privacy?" he argued.
"We understand that we are getting the reimbursement from public money for our treatment and we are entitled for it as per the service conditions of judges," the SC bench said as it dismissed the petition.