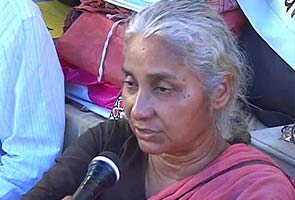 Chhindwara:
Activist Medha Patkar has been released from jail along with 19 others after a Chhindwara, Madhya Pradesh, court's order on her November 4 arrest.
Ms Patkar had been imprisoned in the district jail and had gone on a fast, threatening to carry it on till she was released. She had demanded unconditional release from jail.
Ms Patkar and her supporters were arrested in Chhindwara, where she was leading a Kisan Sangharsh Samiti (KSS) protest against the eviction of farmers from their land for upcoming power projects in the Pench region of the district.
The project involved the construction of a 51-metre-high dam, which is going on under heavy security. Six thousand acres of land has been allotted to the project, evicting people from 31 villages.
Ms Patkar is best known for her fierce and vocal opposition to large dam projects. She has led the Narmada Bachao Andolan for years against the dam on river Narmada in Madhya Pradesh as well as Gujarat for rehabilitation of those displaced.
Her arrest set off a wave of protests, including those by anti-corruption crusader Anna Hazare as well as his erstwhile comrade and now politician Arvind Kejriwal.
Mr Hazare sat in protest outside the Madhya Pradesh Bhavan in New Delhi and had threatened to escalate his opposition to the arrest. He said that this was "murder of democracy".
"Whoever objects to the government's policy to privatise public wealth is being harassed," Mr Hazare said.
Mr Kejriwal and his outfit India Against Corruption, in a similar vein, said that instead of investigating those involved in scams and graft, the government is prosecuting those who raise "the people's voice".