Highlights
India's encounters with the Chinese Army have increased.
Soldiers have been pre-positioned along the India-China border.
Tanks and mechanized infantry have been moved close to the border.
Ladakh:
All along the 826-kilometre-long Line of Actual Control (LAC) - starting from the Karkoram Pass in the North - the de-facto border between India and China, the Indian military is ramping up.
Numbers of boots on ground have increased exponentially. Soldiers have been pre-positioned along the border. More are expected in the next few months. The ridge lines which often define the claim lines of the two countries are dotted bunkers and gun positions. Most are new additions.
NDTV was recently given access to the remote and sometime inaccessible areas on the LAC.
"My posts start from 15,000 feet, and our patrols go up to 20,000 feet," Colonel Ritesh Singh of the 19 Kumaon guarding the borders in South Eastern Ladakh told NDTV.
Even as we speak, a long range patrol headed by a young Captain leave the post. As India marks its territory more vigorously, encounters and face-offs with the Chinese People's Liberation Army (PLA) too have increased.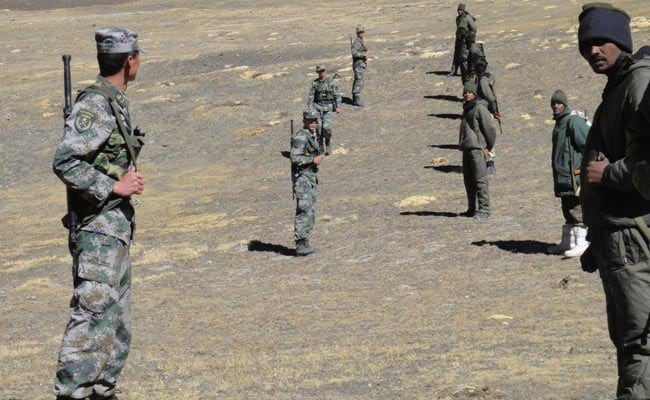 Not only more soldiers, tanks and mechanized infantry have been moved close to the border. New formations too have come-up along the border. For security reasons NDTV is not detailing either their exact location or the strength. But the strength is several times more than number of troops deployed in the 1962. Recent war gaming indicates that China can throw anything between 60,000 to 80,000 men at India in case of hostilities.
For about four decades since the 1962 India-China war, India deliberately didn't build infrastructure along the border. And, the border was protected by a few battalions who were supported by the Indo-Tibetan Border Police and the Ladhak Scouts. All that changed in 2005, after then Foreign Secretary Shaym Saran underlined the need to rapidly develop infrastructure and increase strength along the India-China border.
In 2012, India started deploying more and more forces in eastern Ladakh facing China. The accretion of force and infrastructure-push is in full swing now.
Besides, the increase in number of troops, subtle changes also indicate India means business. Earlier, for instance, most infantry battalions guarded the barren heights of Eastern Ladhak for about six months, before moving on to Siachen Glacier. They were called 'link battalions'. Infantry battalions have been positioned for at least two years.
"Longer tenures allow us to appreciate the terrain and peculiarities better. And, therefore, our defensive and offensive plans are effective," a senior officer told NDTV.
Explaining the change, Lt Gen SK Patyal, Commander of the Leh-based 14 Corps, said, "We have to defend our international borders, whatever it takes in terms of infrastructure and accretion, we are doing it in the best possible manner".